Cancer center to host two community health fairs this month
(SACRAMENTO)
UC Davis Comprehensive Cancer Center is collaborating with community partners to host two health fairs in October. The free events will share information about local community resources and the importance of health screenings to prevent cancer and other diseases. Blood pressure, glucose and mental health screenings will be available. There will also be complimentary food, prizes and fun activities for the entire family.
Woodland event, Oct. 21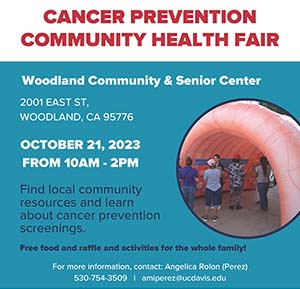 The Woodland Community & Senior Center will be the site of the first health fair in Yolo County on Saturday, Oct. 21, from 10:00 a.m. - 2:00 p.m. In addition to blood pressure, glucose and mental health screenings, colorectal cancer screening kits will be available to take home.
The health fair in Woodland is a collaboration of The Center for Advancing Cancer Health Equity at the cancer center, Latinos United for Cancer Health Advancement (LUCHA) in partnership with the Northern Valley Indian Health Center, Rise, Inc. and Genentech.
Modesto event, Oct. 28
The second free health fair is part of a Dia de los Muertos celebration in Modesto. The Oct. 28 event will be held at Fairview Park, at the corner of Tucson and Placer avenues from 12:00 - 3:00 p.m. In addition to the free health screenings, there will be a Trunk or Treat, with treat bags given to the first 200 children who attend the event.
Along with UC Davis Comprehensive Cancer Center, co-sponsors of the Modesto event include Stanislaus County, The Salvation Army, Sierra Vista Child & Family Services, Golden Valley Health Center, Stanislaus Police Activities League, Rise, Inc. and Genentech.
For more information on either of the events, contact Angelica Rolon Perez at 530 754-3509.
UC Davis Comprehensive Cancer Center
UC Davis Comprehensive Cancer Center is the only National Cancer Institute-designated center serving the Central Valley and inland Northern California, a region of more than 6 million people. Its specialists provide compassionate, comprehensive care for more than 100,000 adults and children every year and access to more than 200 active clinical trials at any given time. Its innovative research program engages more than 240 scientists at UC Davis who work collaboratively to advance discovery of new tools to diagnose and treat cancer. Patients have access to leading-edge care, including immunotherapy and other targeted treatments. Its Office of Community Outreach and Engagement addresses disparities in cancer outcomes across diverse populations, and the cancer center provides comprehensive education and workforce development programs for the next generation of clinicians and scientists. For more information, visit cancer.ucdavis.edu.