Do early life experiences shape the risk for dementia?
Major NIH grant to fund study on life course risk of Alzheimer's and dementia-related diseases
(SACRAMENTO)
The National Institute on Aging (NIA) is funding a UC Davis Health study designed to understand how early life health and behavior impact the risk of cognitive decline, Alzheimer's disease and related dementias. The $18 million, five-year grant from NIA is a renewal of funding for KHANDLE (Kaiser Healthy Aging and Diverse Life Experiences Study).
The groundbreaking study looks at the whole spectrum of factors that may affect brain health.
"The KHANDLE study is the largest diverse cohort set up to answer questions about life course risk for late life brain outcomes, such as dementia, Alzheimer's disease, cognitive decline, neurodegeneration and other brain diseases," said Professor Rachel Whitmer, principal investigator on this grant and leader on KHANDLE. She is the chief of the division of epidemiology at the Department of Public Health Sciences and associate director of the Alzheimer's Disease Research Center at UC Davis.
A life course approach to studying dementia
KHANDLE researchers use a life course approach to study health and behavioral risks and protective factors associated with brain health outcomes. This approach assesses the physical and social hazards from gestation to midlife that may affect chronic disease risk and health outcomes in later life.
"Aging is a lifelong process with earlier life experiences shaping adult and elderly health," Whitmer said. "Our study allows us to do time travel in a sense, as we can leverage decades of information from medical records and health checkups, starting from the 1960 and 1970s."
The study reaches out to communities underrepresented in research on dementia and related diseases. In its first cycle, it recruited 1712 elderly participants from Davis, Sacramento and the Bay Area. The new grant will support the recruitment of an additional 500 new participants.
"What is particularly unique about our study is the diversity of the participants recruited. We are proud to have equal representation of Asian, Black, Latino and white participants," Whitmer said.
While around 6 million people in the U.S. are living with Alzheimer's, there are huge disparities in rates of the disease and cognitive impairments across ethno-racial groups. According to the Alzheimer's Association, older Black Americans are about twice as likely to have Alzheimer's or other dementias as older whites. Older Hispanics are about 1.5 times as likely.
This study is set up to uncover how and why that happens.
The grant will also allow for a brain donation program run by Prof. Brittany Dugger, an assistant professor within the Department of Pathology and Laboratory Medicine and the UC Davis Alzheimer's Disease Center.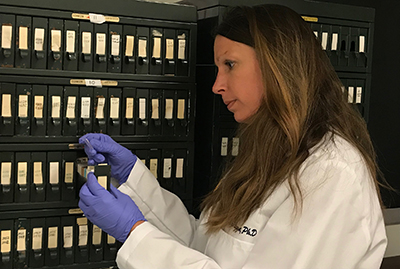 "Brain donation is a very important part of dementia studies. One brain can have a huge impact, providing a plethora of information to advance scientific research and the potential to improve treatments for future generations," Dugger said. "Brains are especially needed from diverse populations to help researchers improve diagnosis, treatments and prognosis of diseases for ALL individuals."
"The COVID-19 epidemic has demonstrated the enormous disparities plaguing the U.S. Understanding drivers of health disparities is one of the greatest public health needs of our time," Whitmer said. "The continuation of KHANDLE will help redress disparities in brain aging and provide needed public health information on reducing the risk of Alzheimer's disease and related dementia."
Research from the Alzheimer's Disease Research Center
$16 million NIH award marks 30 years of Alzheimer's disease research and care
Mapping the brain landscape for Alzheimer's disease using artificial intelligence
Dementia looks different in brains of Hispanics
Hospital visits for extreme blood sugar highs and lows increase chance of dementia