Employee-inspired holiday meal giveaway for grateful cancer patients
Cancer center gifts $100 grocery cards to pediatric and adult cancer patients and their families for a second year
(SACRAMENTO)
Coping with cancer is difficult enough, but for nearly a quarter of all patients undergoing treatment it also means financial challenges. Patients experience increased medical costs and many of them see their income decrease due to cancer treatment. For a second year, UC Davis Comprehensive Cancer Center is helping by giving 150 families facing hardships this holiday season $100 grocery gift cards. It's part of a new employee-driven program initiated during the COVID-19 pandemic.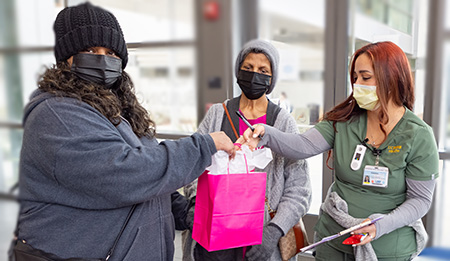 "Many cancer patients and their families often reduce expenses by skipping meals and cutting back on trips to the grocery store in order to make ends meet, and the situation only worsened during the pandemic," said Angela Usher, manager of the cancer center's Supportive Oncology Services. "That's why our department came up with the idea of a holiday meal giveaway to make this time of year easier and a little more special."
A total of 150 Safeway gift cards were distributed during two holiday meal giveaway special events at the cancer center. Other gift cards are available to low-income cancer patients throughout treatment to assist with the cost of gas and groceries.
"The event allows us to also interact with our patients and their families, which is an important first step in addressing food insecurity common to cancer patients. Early detection of these types of risks during cancer care allows us to help patients and families relieve current stress and hopefully prevent things from getting worse throughout their treatment and survivorship," Usher said.
UC Davis Comprehensive Cancer Supportive Oncology Services has embarked on a multi-stage approach to detect and address food insecurity by:
Screening during initial oncology consultations to identify supportive care needs
Providing access to resources through cancer patient navigators
Assessing psychosocial needs through licensed clinical social workers
Giving information and referrals to community services in the area
Employees along with donors such as Kathy Lelevier, the Farrah Fawcett Foundation and committed supporters of the UC Davis Raymond Kwan Patient Assistance Memorial Fund all contributed to make the holiday meal giveaway program possible.
UC Davis Comprehensive Cancer Center
UC Davis Comprehensive Cancer Center is the only National Cancer Institute-designated center serving the Central Valley and inland Northern California, a region of more than 6 million people. Its specialists provide compassionate, comprehensive care for more than 100,000 adults and children every year and access to more than 200 active clinical trials at any given time. Its innovative research program engages more than 240 scientists at UC Davis who work collaboratively to advance discovery of new tools to diagnose and treat cancer. Patients have access to leading-edge care, including immunotherapy and other targeted treatments. Its Office of Community Outreach and Engagement addresses disparities in cancer outcomes across diverse populations, and the cancer center provides comprehensive education and workforce development programs for the next generation of clinicians and scientists. For more information, visit cancer.ucdavis.edu.