Gastroenterology team members care for patients in Rwanda
Over 2,200 patients in nine hospitals received care for gastrointestinal and liver diseases
(SACRAMENTO)
Members from the UC Davis Health Division of Gastroenterology recently participated in the fifth annual Rwandan Endoscopy Week. The event is hosted by GI Rising, the Rwandan Society for Endoscopy and Rwanda Public and Private Health Facilities. It helps deliver specialist consultations, endoscopic procedures and training, anesthesia and endoscopy nurse training, and biomedical engineering support to areas of need in Rwanda.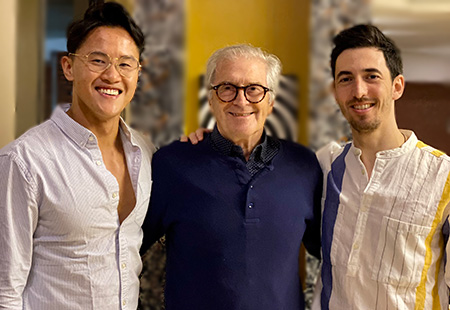 Gastrointestinal fellows Bao Sean Nguyen and Alex Zhornitskiy and attending physician Michael Lawson took part in the event. They joined over 50 members of the international Rawandan Endoscopy Week team of physicians, nurses, and gastrointestinal (GI) staff for one week of educational programs at the University of Kigali Medical School. That was followed by one week of country-wide endoscopy clinics.
"We learned valuable lessons on the delivery of GI care to under-resourced areas, taught clinical and endoscopy skills to the University of Kigali GI fellows and residents, and immersed ourselves in the beautiful cities and countryside of Rwanda," Nguyen said. "As a fellowship, we look forward to continuing to broaden the reach of UC Davis global health through future collaborations with Rawandan Endoscopy Week."
During their time in Rwanda, the team helped perform over 900 procedures and 1,300 consultations across nine sites throughout the country of Rwanda.
"It was truly a remarkable experience to be able to not only provide comprehensive medical care that does not currently exist in Rwanda, but more importantly to be part of teaching Rwandan gastroenterology fellows," Zhornitskiy added. "Providing clinical lessons to local health professionals will allow for this type of care to exist long after we leave."
Lawson, a gastroenterologist with more than three decades of experience volunteering internationally, said the experience was incredibly rewarding for both Nguyen and Zhornitskiy.
"Dr. Nguyen and Dr. Zhornitskiy were both great ambassadors for UC Davis Health during our time in Rwanda," said Lawson. "Each of them expertly performed and proctored procedures at a volume rarely experienced in the U.S. I believe this experience will make them better doctors and help them take a more holistic approach to patient care moving forward."
Rebuilding a health care system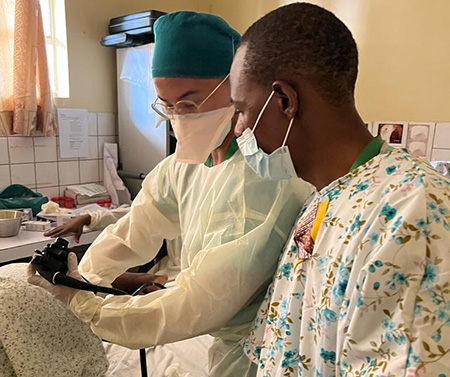 From 1990 to 1994, Rwanda experienced a crippling civil war that ended in genocide. During a 100-day period, members of the Hutu ethnic majority murdered as many as 800,000 people, mostly of the Tutsi minority.
Today, Rwanda is one of the world's poorest countries and is working to improve the quality and outcomes of their health care system.
GI Rising, a charitable organization led by gastroenterologist Steve Bensen from Dartmouth, is working to reduce the burden of gastrointestinal and liver disease in Rwanda through local sustainable initiatives. Their goal is to provide direct patient care, train providers in therapeutic endoscopic skills, and advance gastroenterology as a subspecialty.
"It is rewarding to work with groups like GI Rising, and trips like this are important because of the history of turmoil and genocide in Rwanda," Lawson explained. "The people of Rwanda are working hard to rebuild their country from the ground up and our efforts are part of the work to reconstruct their health care system."
Committed to improving the well-being of all
UC Davis Health uses an interdisciplinary approach, known as One Health on issues surrounding global health. This vision of One Health recognizes the interconnectedness of people, animals, and the environment and aims to identify and address the fundamental causes of poor health to improve the well-being of all.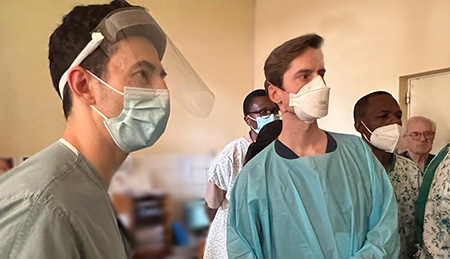 "We understand that a patient's health is influenced by many factors including their environment, access to health care, socioeconomic status, and other complex social determinants of health," said Nathan Kuppermann, associate dean for global health at the UC Davis School of Medicine. "We are committed to high quality care for all patients, especially the most vulnerable in our communities and abroad. This commitment raises the bar to care for our patients throughout our health system."