Lecture to focus on culturally grounded approach to supporting parents of autistic children
Camille Proctor of The Color of Autism Foundation to speak at UC Davis MIND Institute's Distinguished Lecturer Series
(SACRAMENTO)
The UC Davis MIND Institute will host Camille Proctor, founder of The Color of Autism Foundation, as part of its Distinguished Lecturer Series on Nov. 8. Proctor's talk will be titled "A Culturally Grounded Approach to Parent Training."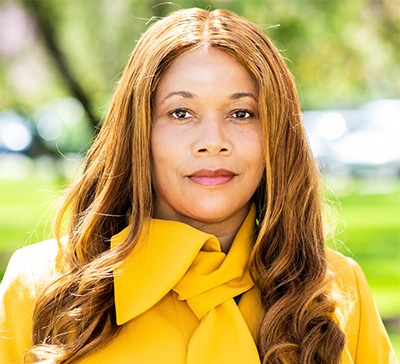 Proctor, a leading autism advocate, will focus on the foundation's programs that are tailored to the needs of racially and ethnically diverse communities, helping parents with resources and advocacy for their autistic children.
"We are teaching them how to support an autistic person through the lifespan," explained Proctor, who has a teenage autistic son. "We also talk in depth about creating a good network of what we call the self-esteem network, where they're instilling values in their child and always letting the child know how important they are and how much they're loved and cared for."
Proctor will also present research she co-authored about the effectiveness of The Color of Autism Foundation's parent training programs for parents of Black children with autism. The study found that parents who took part in the program were highly engaged and empowered. The work also highlighted the need for more Black medical providers.
UC Davis MIND Institute
Distinguished Lecturer Series
Who: Camille Proctor, The Color of Autism Foundation
What: "A Culturally Grounded Approach to Parent Training"
When: Nov. 8, 2023, 4:30 p.m.
Where: UC Davis MIND Institute, 2825 50th St., Sacramento, CA 95817
"We just want people to feel comfortable enough to share their culture with their providers and we want their providers to be culturally competent. If they're not, we want them to at least ask the right questions of their patients," Proctor explained.
In addition to leading the foundation and publishing research, Proctor was recently appointed by the Secretary of Health and Human Services Xavier Becerra to the Interagency Autism Coordinating Committee, a federal advisory committee. She has also served as a diversity and inclusion advisor for both television and film and earned a Diversity, Equity and Inclusion Certificate from Cornell University this year. Proctor also serves on the Michigan State Disability Council.
The in-person lecture is Nov. 8 at 4:30 p.m. at the UC Davis MIND Institute, 2825 50th St. in Sacramento. No registration is required, and the event is free and open to the public. Seating is first come, first served.
See the full Distinguished Lecturer Series lineup.
About The Color of Autism Foundation:
Camille Proctor started The Color of Autism Foundation in 2009, the year after her son was diagnosed at age 2. Her search for support services made her realize the disparity in the Black community. The nonprofit organization educates and assists African American families affected by autism, helping to identify early signs of autism and providing culturally competent support and training. The goal is to improve outcomes for children in underserved communities on the autism spectrum.
The UC Davis MIND Institute in Sacramento, Calif. was founded in 1998 as a unique interdisciplinary research center where families, community leaders, researchers, clinicians and volunteers work together toward a common goal: researching causes, treatments and potential prevention of challenges associated with neurodevelopmental disabilities. The institute has major research efforts in autism, fragile X syndrome, chromosome 22q11.2 deletion syndrome, attention-deficit/hyperactivity disorder (ADHD) and Down syndrome. More information about the institute and its Distinguished Lecturer Series, including previous presentations in this series, is available on the Web at mindinstitute.ucdavis.edu.