Match Day places 126 students into residencies across 18 states
Nearly 66% of the Class of 2022 will train in primary care medicine
(SACRAMENTO)
The countdown began during the Friday morning Zoom session on medical student Kelsey Hideshima's living room television. She was among the dozens of UC Davis School of Medicine classmates who logged in from their homes, surrounded by friends and family. The students appeared on the video screen's grid boxes, each waiting anxiously for the precise moment to open a life-altering email.
"Seven, six, five," said the voice on the other end, Associate Dean Ruth Shim.
Hideshima picked up her iPhone. The mail app was already open.
In just a few seconds, Hideshima, a fourth-year student, would learn where she'd match for an orthopedic residency, the next stop on her long career journey. Would she stay at UC Davis, her first choice? Or would she match elsewhere and move away for the next six years?
"Three, two, one."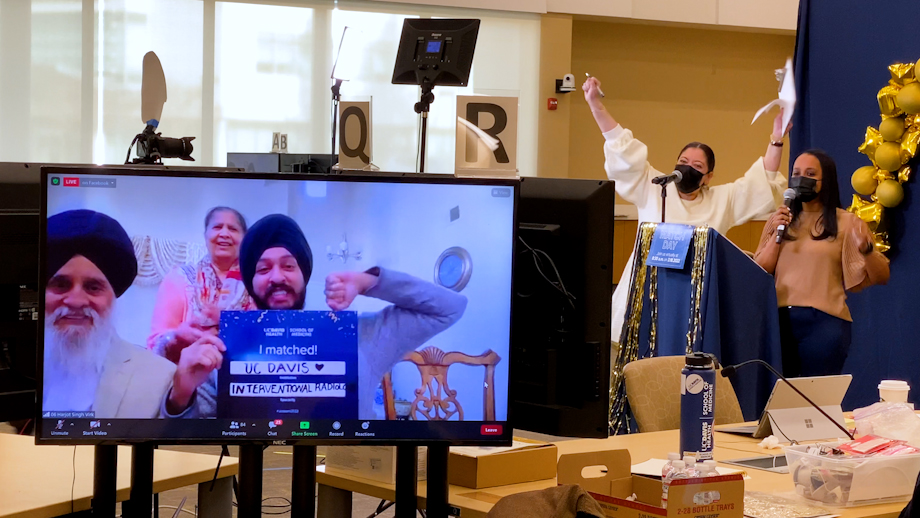 Hideshima fidgeted with her phone. "Oh my God, I'm so scared," she confessed to her boyfriend, sister and parents sitting nearby "I can't do it. I can't, I can't, I can't."
When she finally opened the email a few seconds later, Hideshima thrust her left arm into the air and shouted "Wooooo!!!" so loud that her neighbors could have heard it.
Hideshima will train for orthopedics at UC Davis.
"I'm super grateful, super excited. This is a dream come true!" Hideshima said after popping open a bottle of champagne and hugging her supporters. "I've been working for this moment, honestly, for like the past like 20-plus years of schooling, and I could not be happier."
Match Day connects more than 36,000 students with training programs
Match Day is a national event where more than 36,000 soon-to-graduate medical students across the United States learn their fate for the next three to seven years, depending on their area of specialty.
Students spend their fourth year interviewing with residency programs and then rank their preferred choices. The programs, meanwhile, rank the students too. A computer algorithm then decides which students will go where.
Typically, Match Day is held in person on the UC Davis Health campus in Sacramento, where instead of opening emails, students open an envelope. But during this third year of the coronavirus pandemic, the event was once again virtual. School of Medicine deans anchored the program from Betty Irene Moore Hall over a Zoom feed.
"We are so proud of our students' hard work, leadership and determination," said Susan Murin, interim dean of the School of Medicine. She praised the Class of 2022 for going through medical school during the challenges of a pandemic, which she said made students more resilient.
"Another silver lining from the pandemic is our virtual format," Murin added. "While it would have been great to be together, it does allow you to be together with your friends, family and loved ones as you find out today's big news."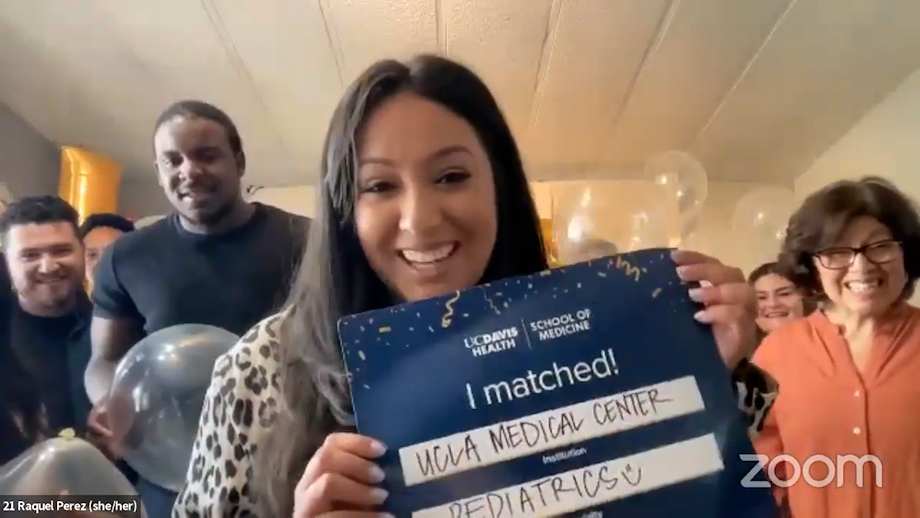 School of Medicine diversity on full display
Students on the Zoom, which also was made available over Facebook Live, participated in video feeds from across California – and one from Canada.
Their images provided an in-depth look into the rich ethnic, racial and cultural backgrounds of students that prompted U.S. News last year to declare the UC Davis School of Medicine as the fourth-most diverse in the United States.
Students announced their matches after opening their emails, some in happy tears and others with a slightly staid tone.
"I'm going to Colorado Children's for peds, my number one," said Sancy Childers, as her partner threw a string of confetti into the air. "And if I thank anyone, I'm going to start crying."
Tan Nguyen, wearing a tropical shirt, may well have used a white lab coat for his doctorish announcement:
"Tan is a 27-year-old male with a past medical history of being a UC Davis medical student… he did not sleep well overnight because he was very anxious. Notable findings are that he matched at his number choice, and he's going to Boston, to Harvard for Radiology," Nguyen said, with five supporters cheering in the background.
"I matched into family medicine at Sutter Sacramento," declared Alejandro Rodriguez. "I'm blessed and grateful for having wonderful mentors here at UC Davis."
Harjot Singh Virk, the class co-president, at his home in Modesto, said he matched at UC Davis for interventional radiology.
Tien Lu stood before her camera to announce, "I'm going to be surfing at – I mean, practicing emergency medicine, at – UC Irvine," she declared, to loud cheers from her parents, brothers and partner.
The 126 matched students will train in 20 specialties, with the majority, with nearly 66% going into primary care residencies.
They will spread out across 18 states, yet 76% will stay in California.
Among those, 17% of students, like Hideshima, will stay at UC Davis.
Hideshima, who grew up in San Jose, had another reason for being excited about her match: Her boyfriend, Matthew Schneck, started his vascular surgery residency last year at UC Davis, which is a seven-year program.
That means they get to spend the next six years at the same location.
UC Davis School of Medicine
The UC Davis School of Medicine is among the nation's leading medical schools, recognized for its research and primary-care programs. The school offers fully accredited master's degree programs in public health and in informatics, and its combined M.D.-Ph.D. program is training the next generation of physician-scientists to conduct high-impact research and translate discoveries into better clinical care. Along with being a recognized leader in medical research, the school is committed to serving underserved communities and advancing rural health. For more information, visit UC Davis School of Medicine at medschool.ucdavis.edu.