More options than ever for at-home and community COVID-19 tests
Two UC Davis experts discuss what's new in COVID-19 testing and why it's still important
(SACRAMENTO)
The initial COVID-19 outbreak last year sent labs and health systems across the country rushing to create tests for the novel virus. Now, more than a year and a half into the pandemic, people can get drive-through COVID-19 testing at community sites and drugstores and even order antigen tests from Amazon to take at home.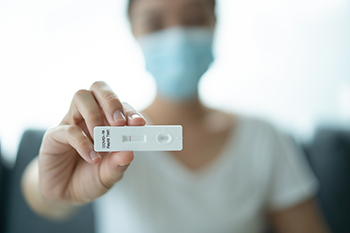 But which tests should you use and when? And if you are vaccinated, do you need to be testing at all? Two UC Davis Health experts offer some updates and advice.
Asymptomatic COVID-19 testing
Asymptomatic testing means getting tested when you don't have any symptoms and don't feel sick.
Although it might seem pointless to get tested when you are fine, asymptomatic testing has been a key strategy in tackling the pandemic. It can identify people who may have the COVID-19 virus — and are spreading it — but don't know they're infected.
"When case rates are high, as they are right now, asymptomatic testing is an essential screening tool to identify cases and limit transmission," said Sheri Belafsky, a UC Davis Health physician and the medical director for Healthy Yolo Together.
The free testing program was originally offered to students and staff at UC Davis and residents in the city of Davis. It has now expanded and conducts saliva-based COVID-19 testing for all of Yolo County. It is also supporting weekly saliva testing in schools throughout Yolo County as students return to in-person learning.
Recent testing shows that cases are on the rise, which worries health experts.
"Healthy Yolo Together is seeing our highest case positivity rates since we began community testing in mid-November 2020," Belafsky said. "This spike in cases associated with the Delta variant underscores the importance of asymptomatic testing to slow further community spread."
And even if you are vaccinated, Belafsky still recommends asymptomatic testing. "Currently, one-quarter of our positive cases are in vaccinated individuals," Belafsky said.
For those who have access to testing, Belafsky recommends getting tested weekly.
Community testing sites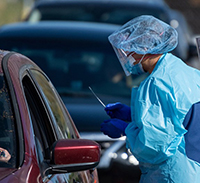 If you're experiencing COVID-19 symptoms, you can make a same-day or after-hours telehealth appointment with UC Davis Express Care, which has extended hours, including weekends and holidays. An Express Care doctor can help arrange a test for you. You can also contact your primary care provider. UC Davis Health patients can log in to MyUCDavisHealth. If you have a medical emergency, call 911 and describe your symptoms.

Covid-19 testing is widely available
Evidence of full vaccination or proof of a negative COVID-19 test within 72 hours is now a requirement for visitors at many health care facilities. That includes California hospitals such as UC Davis Medical Center, skilled nursing facilities, intermediate care facilities and adult and senior care residential facilities by order of the California Department of Public Health. Fortunately, there are many places to get a COVID-19 test.

Sacramento, Placer, El Dorado, Yuba, Sutter, Yolo and other counties offer no-cost COVID-19 testing at many locations. Some clinics are walk-in, and others require an appointment. Most testing is free, but some rapid tests require a fee.

The State of California also has a website with information about COVID-19 testing and a searchable map listing different testing sites. COVID-19 testing is also widely available at drugstores such as CVS, Walgreens and Rite Aid.

Where to get vaccinated
To find locations with walk-up vaccine clinics or to schedule an appointment, visit California's My Turn website.
Healthy Yolo Together's free saliva-based testing is an easy way people can test for the virus that causes COVID-19.
"There are now many places you can go to get free COVID-19 testing," said Nam Tran, senior director of clinical pathology in charge of COVID-19 testing at UC Davis Health.
Counties across California offer free testing, including polymerase chain reaction or PCR testing, which is the gold standard in testing for the virus. Many also offer the more rapid antigen test. These tests are conducted at drive-through locations, walk-in clinics and even at pharmacies.
For people who don't want to take advantage of county and state testing, there are at-home options.
Rapid Antigen Tests
"The Food and Drug Administration has provided Emergency Use Authorization for hundreds of tests, including over-the-counter tests that can be used at home and without a prescription," Tran said. "For about $20 to $30 on Amazon or at a drugstore, you can get an over-the-counter rapid antigen self-test kit. These home kits usually come with two tests, and you can use an app to track your results. The results take about 15 to 20 minutes."
The FDA has created a web page that lists the over-the-counter antigen tests that have been authorized through Emergency Use Authorization, or EUA. Tests include BinaxNOW COVID-19 Ag Card, Ellume Lab COVID Antigen Test, Sofia SARS Antigen FIA, InteliSwab COVID-19 Rapid Test Rx and many others. These are sold online and at drugstores.
The rapid antigen tests search for protein pieces from the virus. Although convenient, they are less reliable than molecular PCR tests, which detect the virus's genetic material — RNA. Rapid antigen tests are best used as intended, where a person tests at least twice over a 36- to 48-hour period to increase the odds of detecting an infection.
PCR Tests
For those who want to do PCR tests at home, there are also over-the-counter kits. "You can purchase them online, take the test, and then mail it in. You get results back in about 48 hours. Amazon even has their own PCR test that provides results within 24 hours of their lab receiving it – so realistically it is about 48 hours since you have to account for shipping time," Tran said.
PCR tests, like the ones used by UC Davis Health's lab, are close to 100% accurate in diagnosing a COVID-19 infection, but the disadvantage is they take more time for results. The exception is the UC Davis rapid PCR test deployed last November, which provides results in 20 minutes; however, these tests are restricted to high-risk emergency patients.
Rapid antigen tests can provide results quickly, sometimes in as little as 15 minutes, but they are less accurate and give more false negatives compared to PCR tests.
Which test to use?
"People need to be mindful that not all tests are created the same, and with all home-use tests on the market, whether antigen or PCR, following testing instructions becomes very important to ensure the quality of testing," Tran said.
For example, if a swab isn't inserted deeply enough into the nose, it may not collect a good sample for testing and may give a false negative.
Tran is often asked which type of test, antigen or PCR, is best, but he explained that it depends on why someone is being tested.
"Rapid antigen tests are now being used at schools for rapid screening. They are good for this purpose. Or maybe your kid has been exposed at school, and after quarantining per the CDC guidelines, they need to have two negatives tests. So, the parents may want to buy a rapid antigen home kit," Tran said.
But in other instances, a molecular PCR test, which is highly accurate, is more appropriate.
"A PCR test can be used for asymptomatic testing or to confirm a positive antigen test, or when patients are experiencing symptoms, or need to be tested before a procedure, or when they are being admitted to the hospital. Our tests are for facilitating clinical decision-making," Tran said.
For Tran, all COVID-19 tests — whether antigen or PCR or saliva screening — are tools that provide important information.
"Testing is merely a way to mitigate the pandemic so everyone can get vaccinated. Testing was never intended to be the only solution to get us out of the pandemic," Tran said.
For more information about testing, appointments and vaccines, visit the UC Davis Health coronavirus website.