Reinventing the academic medical center
New research shows how UC Davis Health is positioning itself as a collaborative partner that expands patient care throughout Northern California
(SACRAMENTO)
A strategic shift underway at UC Davis Health seeks to reinvent the academic medical center (AMC) model as a collaborative partner that facilitates a high level of patient care throughout an entire region, better utilizing the region's health care assets, and bringing higher-level care delivery closer to home for patients.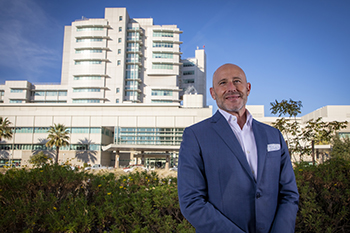 A new paper in the New England Journal of Medicine's Catalyst describes UC Davis Health's recent success on this front. It also advocates for AMCs to join with competitors and form partnerships that expand patient access to care, especially among the underserved. AMCs like UC Davis Health typically provide a wide range of medical services for patients, while offering academic research capabilities and medical education as well. The UC Davis Health experience shows such partnerships have financial rewards for partner hospitals, AMCs, and most importantly, patients.
Since a leadership change in 2018, UC Davis Health has embraced an "anchor institution" model, rather than the business-as-usual race for volume, according to the paper.
"The implementation of an anchor institution model as described in this article provides an example of how a system can act as a clinical and research leader, support improved care throughout its entire community, better balance the usage of health care resources across the larger health care system, and have a meaningful impact on the health outcomes of patients from all backgrounds," wrote David Lubarsky, CEO of UC Davis Health and vice chancellor for Human Health Sciences, and Elizabeth Keating, an executive consultant for the UC Davis School of Medicine, co-authors of the paper.
These efforts have expanded patient access to care and increased the case mix index (CMI) at UC Davis Health from 1.91 to 2.31 over 30 months. CMI is a measure used by the Centers for Medicare and Medicaid Services to determine hospital reimbursement rates for Medicare and Medicaid beneficiaries. A higher case mix index value indicates a hospital has treated a greater and more diverse number of complex, resource-intensive patients, and the hospital will be reimbursed at a higher rate.
Increasing patient access
In 2018, the academic medical center started organizing itself around the anchor institution mission. One key insight was that merely providing a high volume of care to the region's poorer populations was not sufficient to meet the region's needs, Lubarsky and Keating wrote.
"We developed a strategy to complete, not compete with, other health systems and hospitals in our region in order to maximize appropriate utilization of existing capital."
— UC Davis Health CEO David Lubarsky
Medi-Cal (California's Medicaid program) volumes made up the largest portion of UC Davis Medical Center's total discharges, which, as of fiscal year 2020, was 41.5%. Over the previous four years, that rate had ranged from about 39.8% to 41.4%. At the same time, UC Davis Health's share of patients with commercial insurance had declined, from 50,511 (25.8%) in 2017 to 43,686 (22.4%) in 2020.
"We trace this decline in commercial patient volume to other hospitals sending their patients with public insurance programs to UC Davis Health, a trend that inspired the idea of shifting to partnerships in the first place," according to the authors, who also said UC Davis Health's goal was not simply to fill up beds with patients, but to increase patient access to care regionally.
The health system's focus on high-acuity care (sicker patients) led to an increase in length of stay at the medical center by nearly one full day – from 5.6 to 6.5 days – between 2018 and 2020, the research showed.
"We developed a strategy to complete, not compete with, other health systems and hospitals in our region in order to maximize appropriate utilization of existing capital," wrote Lubarsky, adding that the goal is that "when patients reach UC Davis Health medical center, they truly need to be there."
"Our goals are now targeted to worry less about every last dollar of referrals and instead to collaborate with 'competitors' so they can take on the needs of our lower-acuity patients, while we focus on delivering the high-intensity-related care for high-CMI patients [those with more complex medical needs] in our AMC beds and clinics," they noted.
This results in a win-win for partner hospitals and AMCs: Partner hospitals are able to keep and treat patients they can better care for, and AMCs can focus on sicker patients, at higher reimbursement rates which help to offset their higher costs structure. Patients also win, the paper points out, by receiving their care in the most appropriate location, which is often closer to their home.
The system's focus on high-acuity care also led, between 2018 and 2020, to a rise in CMI from 1.91 to 2.10. Through the first quarter of calendar year 2021, the CMI is 2.31.
Empowered partnerships
This type of two-way partnership between UC Davis Health and Adventist Health Lodi Memorial, which is 40 miles away, resulted in an increase of high-acuity pediatric transfers from the Lodi facility to UC Davis Health. Between July 2018 and June 2019, these transfers increased by 7%, from 208 to 223, resulting in a case mix index increase of 39%, from 1.17 to 1.63.
As part of its anchor mission, UC Davis Health also invested in the care it provided at federally qualified health centers (FQHCs) in Sacramento. The Sacramento County Primary Care Clinic benefited from an influx of UC Davis Health staffing, which resulted in a significant impact on clinic volume – an increase of 500% – from 8,000 annualized visits in FY 2018 to an annualized 40,000 in FY 2021.
The coronavirus crisis also exposed issues where the underserved needed heightened attention, the authors wrote.
"Overall, the pandemic has helped UC Davis Health even more deeply understand the health needs of our community, allowing it to continue to operate as a pillar of the Sacramento and Northern California safety net," Lubarsky and Keating stated.
The article highlighted six different questions previously cited as guiding modern health care strategies for AMCs. Through this new strategic shift, UC Davis Health is positioning itself as a health care "backstop for the entire region," the authors wrote, but not at the expense of any one part of the system, but rather a rising tide for all boats, including outcomes for patients.