School of Medicine staff collect books and funds for local children
Employees gathered 345 books and $270 for Father Keith B. Kenny Elementary School
(SACRAMENTO)
A book is a gift you can open again and again.
To extend this gift to local children, the Office of Medical Education's Community Involvement Committee (CIC) held a Book Drive for students at Father Keith B. Kenny Elementary School in Oak Park.
The CIC collected a total of 345 books and raised $270 in funds from School of Medicine students, faculty and staff. Teachers in grades 4-6 purchased supplies with a gift card and were able to buy two "pad" devices. These allow the teacher to write on the screen using their laptop during math lessons to project equations and steps to solve.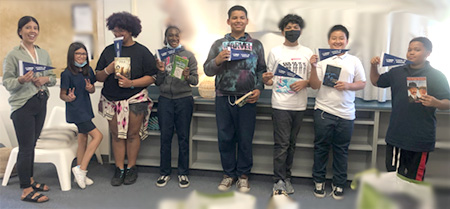 "Students have been reading the books at a faster rate than the previous books. They have their favorites and those are used often," said Sarah Nava, sixth grade teacher at Father Keith B. Kenny Elementary school. "Students love being able to read the books at the library when they finish their To-Do's during independent time. Thank you to the team who donated!"
The CIC is dedicated to presenting staff with opportunities to actively serve in the community. It and represents the Office of Medical Education, utilizing UC Davis Principles of Community, both internally and outside the UC Davis Health campus.
"We appreciate everyone who helped us make a positive impact for students at Father Keith B. Kenny Elementary school," said Paty Gonzalez, co-chair of the CIC. "The donations were absolutely appreciated and received with great joy and appreciation by students, teachers, and the principal."