Office of Medical Education
Welcome to the Office of Medical Education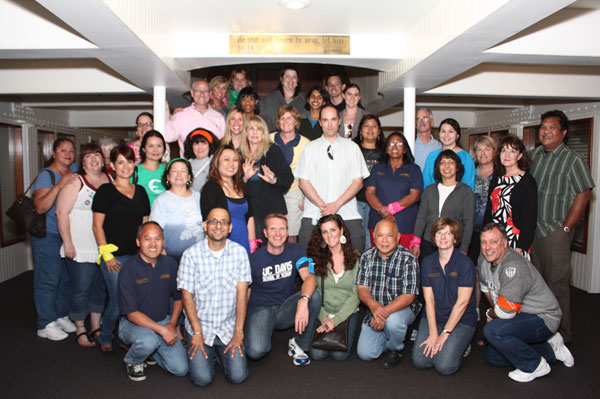 Our mission is to work with the faculty and administration to create a supportive and stimulating learning community that nurtures the requisite and enduring attitudes, skills, and knowledge required of excellent physicians. The Office of Medical Education consists of an interdisciplinary team of academic, technical, and administrative employees who deliver centralized expertise, services, and instructional resources through four major routes.
OME offers the range of support services typically provided by Dean's Office administrative units, such as admissions, financial aid, registrar, student advising, curricular scheduling, and facilities management.
OME provides direct, centralized academic, administrative, and technical support to faculty in the planning, delivery, evaluation and enhancement of individual courses and clerkships and the curriculum as a whole.
OME offers centralized staff support for key faculty and Health System committees, including the Committee Educational Policy, Admissions Committee, Committee on Student Progress, Honors and Awards Committee, Fourth Year Oversight Committee, Level 2 Evaluation Subcommittee, Block Council, Doctoring Steering Committee, Third Year Clerkship Committee, and the Educational Advisory Board.
OME is the School's liaison to Campus and University educational and administrative units, statewide and national consortia for medical education, and educational components of regional and national organizations such as the Liaison Committee on Medical Education and the American Association of Medical Colleges.
The Office of Medical Education works closely with other administrative and educational units within the Dean's Office and the UCD Health System to enhance the educational resources available to all Health System educational constituencies. Common goals include coordinated faculty and curriculum development, facilities planning and oversight, and strategic development of information and educational technology.
To view information on the LCME accreditation process, please click here.
Office of Medical Education – Teams Dedicated to Excellence in Education
Admissions – provides information to prospective and current applicants (requirements, how to apply, deadlines), and processes applications.
Registrar - manages all student records, enrollment, grades, transcripts, PELP, graduation processing, etc.
Financial Aid - provides information and resources for prospective and current students to help financially support their educational goals.
Curricular support – provide support for delivery of the curriculum (course scheduling, coordination, quiz/exam facilitation, evaluation, etc.)
Clinical Skills Center - support teaching and assessment of clinical skills, Doctoring curriculum, and Standard Patient program.
Educational Technology – support the development of innovative technologies for administration, teaching and learning.
Student Life – support academic advising, career advising, colleges, student-run clinics, and medical student events.
Rural PRIME – provides support for curriculum and students in the Rural-PRIME program.
M.D./Ph.D. Program - works with other units within OME to support M.D./Ph.D. students.
Administrative Office - provides general administrative support to our faculty, staff and students (budget, room scheduling, purchase/travel reimbursement, etc.)
Our OME team looks forward to making your medical school experience successful and rewarding - if you have any question/suggestion, please contact one of our OME Team members.