UC Davis creates new pathway to medical school that starts in community college
Avenue M seeks to boost number of doctors in rural areas
(SACRAMENTO)
UC Davis has received a $1.8 million grant to create a robust pre-med pathway for rural college students. It's the university's latest initiative to boost the number of primary care physicians in underserved parts of Northern California.
The new pathway, known as Avenue M (the M is for Medicine) will identify community college students interested in studying health sciences. Staff will provide academic support, ensure students' seamless transfer to any of three participating four-year colleges, then steer them toward the UC Davis School of Medicine.
Avenue M is the newest pathway developed by UC Davis in response to the shortage of primary care physicians in rural, medically underserved areas of California, most of which are challenged by health disparities.
"The new Avenue M program is critical for students who have the aptitude and desire to enter the medical fields yet may not have believed attainment was within their reach," said UC Davis Provost Mary S. Croughan. "Like its predecessors Avenue E and Avenue B, which focus on engineering and biological science respectively, Avenue M will help us better fulfill our commitment to serve students from all backgrounds as well as our region as a whole."
The three-year grant was awarded through state legislation to the Foundation for California Community Colleges under its California Medicine effort, a coalition of educational leaders, medical providers, elected officials and others committed to producing a diverse physician workforce to advance health equity.
The foundation extended the award to UC Davis and three other institutions that will work with partner community colleges to establish Hubs of Healthcare Opportunity: UC Riverside, UCSF-Fresno and UC San Diego.
Avenue M is part of a collaboration with the School of Medicine, the UC Davis STEM Strategies group, Sacramento State University, Cal Poly Humboldt and Kaiser Permanente Northern California. It also includes other medical and health serving organizations creating an ecosystem of more than 20 community colleges in 14 California counties that feed into the universities.
The community college districts in the initiative are Los Rios, Sierra, Solano, Yuba, Redwoods, Siskiyou, Mendocino, California Tribal College and Shasta-Tehama-Trinity.
The new Avenue M program is critical for students who have the aptitude and desire to enter the medical fields yet may not have believed attainment was within their reach."
Seeking students from rural, medically underserved areas
The initiative relies on the same blueprint as the engineering and biology programs but places an emphasis on drawing students from certain underserved regions, such as rural Northern California. The hope is that they will return to those areas to serve as primary care physicians.
Ample evidence shows that an effective way to produce doctors to practice in rural, medically underserved regions is to recruit and train students who have deep ties to those communities or completed residency there.
The School of Medicine's Center for a Diverse Healthcare Workforce has conducted key research on the critical role of community colleges in the academic pathway of primary care physicians. A recent national study of family medicine, arguably the backbone of the primary care workforce, found that 51% of Latino and 33% of Black or African American residency trainees attended community college.
The School of Medicine has launched numerous initiatives over the past 15 years to improve the health of California's diverse population, especially in areas where there's a shortage of doctors.
Its Community Health Scholars (CHS) pathways include: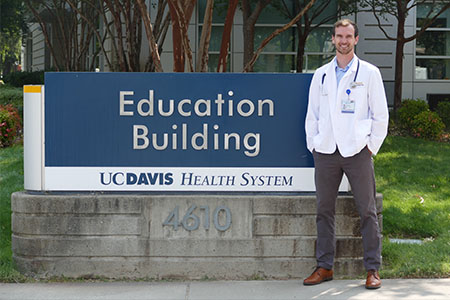 In addition, the medical school was among the first in the nation to adopt holistic admissions practices which prioritize multiple factors beyond a student's test scores, including their journey getting to and through college.
"UC Davis School of Medicine is a nationally recognized leader in training the next generation of diverse physicians who will help solve California's health challenges," said Susan Murin, interim dean of the UC Davis School of Medicine. "The Avenue M collaborative is an exciting new way we are partnering to advance health equity and significantly improve the health of diverse communities statewide."
Avenue M will likely improve student diversity
The CHS pathways and holistic admissions have also significantly boosted the number of students from backgrounds underrepresented in medicine. In fact, the School of Medicine was recently ranked No. 3 in diversity for medical schools nationally, according to U.S. News & World Report's list of "Best Graduate Schools."
UC Davis is an ideal fit for Avenue M because of its extensive experience in community college partnerships, said Beth Broome, senior advisor to the provost and head of UC Davis STEM Strategies.
Broome's office was instrumental in establishing the university's Avenue B and Avenue E pathways, which help educate high-potential, low-resource and first-generation college students by providing the support they need to succeed in the UC Davis College of Biological Sciences and College of Engineering.
"The Avenue model is designed to provide a seamless transition to and through the university, focusing on academic and wraparound supports, leading to increased belonging and amplifying post-matriculation success," Broome said. "The successful Avenue B and E models are the foundation we will use to broaden our reach into the professional School of Medicine."
UC Davis also has a long track record of opening its doors to community college students – 21% of the students admitted to the fall 2021 term were transfer students. In addition, 42% of UC Davis undergraduates are first-generation college students, meaning that they grew up in households without a parent or guardian who had completed a four-year college degree.
Students from such backgrounds are more likely to be primary care doctors, according to UC Davis medical school leaders.
Avenue M will soon hire staff and begin outreach at community colleges from Sacramento to the Oregon border. Its employees, who will work under UC Davis Health, are tasked with outreach to high schools, academic advisors, community colleges and partners in the health care industry.
The first cohort of 50 students is expected to join Avenue M in January 2023 and transfer to UC Davis, Sacramento State or Cal Poly Humboldt within two years of enrollment, a much quicker timetable than the average community college student.
Each year another 50 students will join the initiative.
Providing support to students is critical to their success
The students will receive financial support as well as access to mentors, networking opportunities and academic resources including tutoring if needed. Once at the four-year university, they will continue to receive support, including consistent advising and weekly cohort meetings, targeted tutoring, wrap-around services designed to amplify success and test preparation skills for the medical school admissions test.
By strengthening relationships across education, clinical, and research sectors, Avenue M disrupts the dominant culture and reduces barriers to entry to medical and health care careers."
Students will also have opportunities to shadow health professionals at Kaiser Permanente, the largest provider of primary care medicine in Northern California.
"Building and diversifying the health care workforce is a common goal we share with UC Davis," said Roderick Vitangcol, physician-In-chief, Kaiser Permanente Sacramento. "Avenue M will provide new opportunities and experiences for students from backgrounds that are currently underrepresented in health care, and it will help Northern California health care providers meet the needs of our increasingly diverse communities."
If scholars decide they no longer wish to pursue medicine, Avenue M will provide off-ramps to other allied health careers, ensuring successful career trajectories for all cohort members while increasing the regional health professions workforce.
One of the highlights of Avenue M is how it will bolster the recruitment, retention, well-being, and advancement of diverse STEM talent from underrepresented and historically excluded backgrounds throughout Northern California, said Charlene Green, director of outreach, recruitment and retention for the School of Medicine.
"By strengthening relationships across education, clinical, and research sectors, Avenue M disrupts the dominant culture and reduces barriers to entry to medical and health care careers," added Green, who is principal investigator on the grant.
The co-principal investigator is Tonya Fancher, associate dean workforce innovation and education quality and director for the Center for a Diverse Healthcare Workforce at UC Davis.
Students interested in Avenue M can contact UC Davis STEM Strategies: avenuem@ucdavis.edu.