UC Davis Health breaks ground on 48X Complex, a new ambulatory surgery center
(SACRAMENTO)
UC Davis Health held a ceremonial groundbreaking today for a major new ambulatory surgery center. Known as the 48X Complex due to its location at 48th and X streets, the center will blend advanced medical technologies with a human-centered approach to patient care.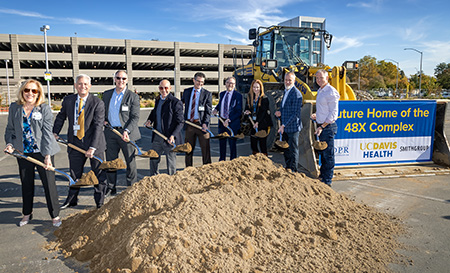 The complex will be 267,000 square feet and will include 14 operating rooms, 59 pre-and post-operative recovery bays and 14 single-occupant overnight recovery rooms. The center will also include clinical support, pharmacy, imaging and physical therapy services and administrative support space.
The $579 million center will encompass the entire block between 48th and 49th streets and X and Y streets, to the east of the main hospital building. It will be located between the Tschannen Eye Center and Parking Structure 4, with a breezeway connecting the two locations.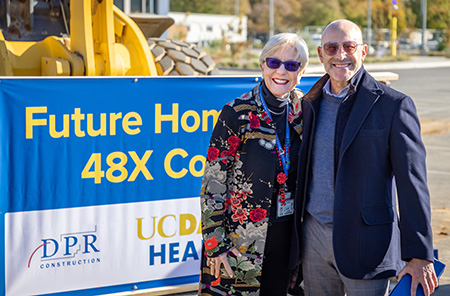 "This 48X Complex embodies our vision of delivering tomorrow's health care today. The future of health care is fundamentally evolving, as is our campus," said David Lubarsky, vice chancellor for human health sciences and CEO for UC Davis Health. "We must become truly patient centric, focused on delivering care and information how, when and where patients want it. Our patients are the reason we're all here and why we keep innovating, expanding, and pushing the boundaries to deliver care and treatment like no other academic medical center."
The facility will help to reduce wait times for elective procedures while expanding surgical service lines and therapies by adding space for patient care clinics as well as advanced technology. It is designed to serve a more diverse population with shifting health needs.
"We are very excited about the opening of this facility to extend the reach of our adult surgical care and provide a patient-friendly environment for our scheduled short stay procedures," said Diana Farmer, fetal and neonatal surgeon and chair of the Department of Surgery at UC Davis Health. "This marks a significant change in our clinical footprint. It paves the way for that personalized, patient-oriented, scheduled care that allows us to really meet the needs in our region – where our care comes to you."
In addition to improving patient care, the project is another step forward on UC Davis Health's path to carbon neutrality. The 48X Complex will exceed the UC Sustainable Practices Policy energy efficiency goals and will be LEED Certified, a designation that is focused on healthy, highly efficient, carbon and cost-saving green buildings.