Diana L. Farmer, M.D.
Chair of the UC Davis Department of Surgery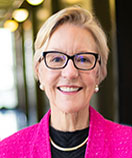 Diana L. Farmer, an internationally renowned fetal and neonatal surgeon, is chair of the Department of Surgery at UC Davis Health, where she oversees more than 250 faculty, volunteer clinical faculty, post-doctoral fellows, residents, students and staff who provide highly skilled, specialty services in bariatric, burn, cardiothoracic, gastrointestinal, plastic and reconstructive, oncology, transplant, trauma and vascular surgery.
A recognized leader in pediatric surgery, Farmer is known for her skilled surgical treatment of congenital anomalies and for her expertise in cancer, airway and intestinal surgeries in newborns and for her investigations on the safety and effectiveness of providing spina bifida treatments before birth. She is researching a novel stem cell therapy for repairing damaged neural tissue in spina bifida patients. Farmer has authored more than 100 peer-reviewed research articles, including studies of neuroblastoma, Chiari II malformation, twin-to-twin transfusion syndrome, fetal trauma and necrotizing enterocolitis."Dr. Farmer is a worldwide innovator in treating complex birth defects and diseases in very young children," said Claire Pomeroy, vice chancellor for human health sciences and dean of the School of Medicine at UC Davis. "Her technical insights, expert leadership and dedication to patients will assure that our surgical team continues to offer compassionate care together with the latest technologies."
Farmer came to UC Davis in 2011 from UC San Francisco, where she was chief of pediatric surgery, vice chair of surgery, surgeon-in-chief of the UCSF Benioff Children's Hospital and a professor of surgery, pediatrics, and obstetrics, gynecology and reproductive sciences.
After receiving a bachelor's degree in marine and molecular biology at Wellesley College, Farmer completed her medical degree and internship at the University of Washington in Seattle. She completed her general surgery residency training at UC San Francisco and pediatric surgical training at Children's Hospital of Michigan.
In 2010, Farmer was inducted as a fellow into the Royal College of Surgeons of England, becoming only the second woman surgeon from the United States to receive this prestigious honor. In 2011, she was elected to membership in the Institute of Medicine of the National Academies, one of the highest honors in medicine.
Farmer consistently has been recognized for her teaching and service by UC San Francisco, including the 2008 Family House Volunteer of the Year Award, 2009 Golden-Headed Cane Award (the highest faculty teaching award), 2001 and 2002 Outstanding Women Faculty Chancellor's Recognition Award, 2002 and 2008 Department of Surgery Excellence in Teaching Award and 2011 Holly Smith Award for Exceptional Service. She is included in the 2010 edition of Who's Who Among American Women and the 2011 edition of Best Doctors in America. She has appeared on the Lifetime television network and the "Oprah Winfrey Show" to discuss surgical innovations.