Diana L. Farmer, M.D.
Chair of the UC Davis Department of Surgery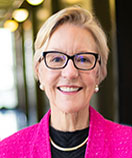 Dr. Diana L. Farmer, an internationally renowned fetal and neonatal surgeon, Distinguished Professor, Pearl Stamps Stewart Endowed Chair, and Chairperson of the Department of Surgery, University of California, Davis. She is also Chief of Pediatric Surgery at Shriner's Hospitals - Northern California, and Founder and Co-director of the Center for Surgical Bioengineering.
As a recognized leader in pediatric and fetal surgery, Farmer is known for her skilled surgical treatment of congenital anomalies and for her expertise in cancer, airway, and intestinal surgeries in newborns, and for her investigations on the safety and effectiveness of providing spina bifida treatments before birth.
Dr. Farmer's lab focuses on regenerative medicine, specifically in utero cell therapy for myelomeningocele (MMC), the most severe form of spina bifida. In 2000, Dr. Farmer's team made the seminal discovery that hindbrain herniation could be ameliorated by prenatal surgical repair in fetal sheep. This breakthrough led to the $22 million-dollar, multi-center Management of Myelomeningocele Study (MOMS), a randomized human clinical trial of MMC closure before and after birth. The trial showed conclusively that fetal surgery resulted in better outcomes. Dr. Farmer is now developing an allogeneic placental mesenchymal stem cell product to further treat in utero spina bifida. Her lab received Investigational New Drug (IND) approval with the Food and Drug Administration in 2020. Patient enrollment in the CuRe (Cellular Therapy for in Utero Repair of MMC) clinical trial is currently underway.
Dr. Farmer has been honored with numerous awards throughout her career, including being a Luce Scholar, a recipient of Wellesley College's Alumnae Achievement Award, a member of the Royal College of Surgeons of England, past President of the American Pediatric Surgical Association, and past Chair of the Board of Governors of the American College of Surgeons. Dr. Farmer has long been a leader in global surgery and in 2016 she founded the Global Initiative for Children's Surgery, subsequently receiving the 2020 Universitas 21 Award for Contribution to Internationalization in Surgical Education. She is a Regent of the American College of Surgeons and the 2022 President of the American Surgical Association.