Charles F. Frey, M.D. Lectureship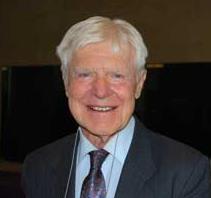 Charles Fredrick Frey, MD, a distinguished surgeon, pancreatophile, and emeritus professor at UC Davis Department of Surgery died February 7, 2022 at the age of 92. Dr. Frey lead a remarkable career which embodied a passion for teaching, a drive for creating innovative surgical techniques to improve patient outcomes, and for numerous scientific contributions in the field of pancreatic research. Known around the world for his namesake "The Frey Procedure," he is and will remain a legend in the field of the pancreas.
Charles Frederick Frey was born in New York City in 1929. He graduated from Amherst College in 1951 and attended Cornell University medical school to obtain an M.D. degree in 1955. In 1957, during his surgery training, he met and married Jane Tower, the sister of his best friend. He finished general surgery training at Cornell in 1963 during which time he completed two years in the United States Air Force as chief of surgery at Homestead Air Force Base.
From 1964 until 1976, he rose to Professor of Surgery at the University of Michigan and at that time enjoyed a productive experience working with C. Gardner Child. Here he began to understand the impact of the extended distal pancreatectomy (duodenum-sparing almost total pancreatectomy). It was during this time that he started his seminal work on understanding how to disable pain caused by chronic pancreatitis.
In 1976, he joined the UC Davis Department of Surgery faculty where he established himself as a leader in the field by refining and extending the treatment of severe acute pancreatitis. In 1987, The Frey Procedure was published in the journal, Pancreas, as a new operation for chronic pancreatitis. The operation, featuring duodenal-preserving resection of the head of the pancreas combined with longitudinal pancreaticojejunostomy of the body and tail of the pancreas, continues to this day to be a popular surgical intervention used for chronic pancreatitis.
In addition, Dr. Frey is well known as a founding member and chairman of the Pancreas Club and has published over 250 journal articles and presented over 350 lectures throughout the world. Dr. Frey and the Pancreas Club have become a household word among pancreatophiles. In 1997, Dr. Frey retired as Professor and Executive Vice Chairman, of the Department of Surgery.
Truly, a renaissance man, he never failed to inspire those around him with his passion for life and his work. We are honored to have a legacy like Dr. Frey as an emeritus faculty in our department and are thankful for his many contributions to UC Davis and the field of pancreatic science.
We are pleased to continue his lifelong dedication to understanding the pancreas through the Charles F Frey, MD Lectureship. Through this lectureship, we welcome distinguished visiting surgeon scientists to present their research contributions in the field of pancreatic science and honor the legacy created by Dr. Charles Frey.
Past Speakers
Pancreatic Cancer: Update 2019, Nicholas J. Zyromski, M.D.

Nicholas J. Zyromski, M.D., 2019
Northwestern University's Feinberg School of Medicine
"Evolving Treatment of Necrotizing Pancreatitis"

Pancreatic Cancer: Update 2017, Doug Evans, M.D.

Doug Evans, M.D., 2017
Medical College of Wisconsin
"Recent Developments in the Treatment of Localized Pancreatic Cancer: MCW Experience"

Chronic Pancreatitis: Update 2016, William Nealon, M.D.

William Nealon, M.D., 2016
Yale Cancer Center
"Evolution of the Surgical Management of Chronic Pancreatitis"


Pancreatic Cancer: Update 2015, Keith D. Lillemoe, M.D.

The Inaugural Charles F. Frey Lectureship

Keith Lillemoe, M.D., 2015
Surgeon in Chief
Massachusetts General Hospital
"Pancreatic Cancer: Update 2015"