Gastrointestinal Robotic Surgery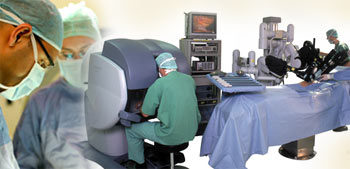 Robotic surgery at UC Davis
An innovative, minimally invasive surgical approach
Tamas Vidovszky, an associate professor of surgery in the gastrointestinal division and an expert in treating conditions using a minimally invasive procedures, talks about robotic-assisted surgery and the benefits for patients. Read more about robotic surgery in our FAQs.
UC Davis Medical Center offers a minimally invasive robotic-assisted procedure for several gastrointestinal conditions. The state-of-art robotic surgery program has an experienced and highly trained team of surgeons, nurses and technicians who specialize in using the da Vinci® surgical system.
Robotic-assisted surgery is a leading-edge technology. Because it is minimally invasive, the precision of robotic technology is ideal for delicate and complex surgeries around the chest and abdomen. These include procedures for hiatal hernias, associated esophageal reflux, achalasia (a disorder of the muscle at the end of the esophagus), and some conditions that require gallbladder removal.
Benefits to patients
Robotic surgery enables surgeons to perform a more precise, less invasive operation than conventional "open" surgery. This offers several potential benefits, including:
Significantly less pain
Less blood loss
Less risk of infection
Less scarring
Shorter hospital stay
Quicker recovery time
Better clinical outcomes in many cases
As with any surgical procedure, benefits cannot be guaranteed. Successful outcomes depend on the procedure and the patient.
Robotic-assisted GI procedures
Heller myotomy — Used to treat achalasia, a disorder where the lower esophageal sphincter fails to relax properly, making it difficult for food and liquids to reach the stomach. The procedure involves cutting the muscles of the lower esophageal sphincter to allow food and liquids to pass to the stomach.
Hiatal hernia repair and Nissen fundoplication — Used to treat hiatal hernias. In this condition part of the stomach protrudes through the diaphragm and up into the chest, allowing food and acid to back up into the esophagus and leading to heartburn and chest pain.
Robotic-assisted surgery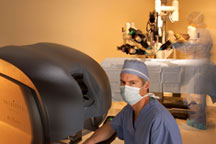 The surgeon sits at a controlling console near the patient, with an assistant surgeon at the bedside next to the patient. Through a video camera, the surgeon watches the operative field and controls several robotic arms from the console. The arms replicate the surgeon's movements.
A benefit to the patient from robotic surgery is decreased length of recovery time. The operation is performed laparoscopically, meaning it is less invasive because it requires small keyhole incisions rather than a large incision. This means less time is required to recover. Most patients return to normal activity in two to three weeks instead of the six to eight weeks common in standard open surgery.
Learn more about the da Vinci Surgical System.