Pediatric cardiothoracic surgery
Leaders in diagnosing and treating infants, children and adolescents with congenital and acquired heart defects
The staff at UC Davis Children's Hospital's Pediatric Heart Center are an interdisciplinary team of experts, including pediatric cardiologists, pediatric heart surgeons, pediatric nurses and specialists trained in the latest diagnostic and therapeutic procedures. Children requiring surgery are treated by our full-time pediatric cardiothoracic surgeon, Gary Raff, M.D. Children also benefit from specialized cardiac care nurses Barbara Goebel, R.N., N.P.; Mary Zanobini, R.N., N.P. and Amber Lindgren, R.N., C.N.S. All our staff members provide compassionate care throughout a child's stay and ongoing support during recovery and rehabilitation.
Caring to Share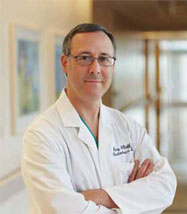 "Families with infants with complex congenital heart defects are under a lot of stress and pressure. It's better for infants and for families to have friends and loved ones close at hand during such a challenging time in their lives."
— Pediatric heart surgeon Gary Raff
Caring to Share actively provides a pathway to facilitate secure, privacy-focused correspondence between recipients and donor families of CryoLife® processed human tissue allografts. Since many surviving families of donors want to know the final outcome of their loved one's gift, the opportunity to connect with you can provide comfort for them. If you are a recipient of a CryoLife® processed human tissue allograft and would like to receive correspondence from the donor's family visit the Caring to Share website at www.caringtoshare.org to register.

Call the Pediatric Heart Center to make an appointment 916-734-3456

Learn more or make an appointment
Abbey's story
Abbey is a 7-year-old Sacramento resident who is interested in theater, excels in school and went snowboarding for the first time this winter.
While that sounds like a typical little girl, Abbey is anything but typical. She was born with a type of congenital heart disease that is fatal without treatment. The diagnosis turned her family's life upside down and led to Abbey's multiple open-heart surgeries …