Plastic and Reconstructive Surgery Residency
Introduction
Faculty at the UC Davis School of Medicine established a plastic surgery residency in 1978. Much has changed since then. We now have 9 residents spread over both Independent and Integrated tracks. Our program goal is to develop (1) technically skilled and (2) broadly trained residents who will (3) ultimately contribute to the safe, efficacious, and ethical delivery of plastic surgery, in all of its fields, (4) in an environment of collegiality and camaraderie, (5) allowing all to pursue their desired fellowships and future practice. This will be seen by:
Progressive improvement in medical knowledge and clinical skills as measured by all Plastic Surgery Milestones.
High operative volumes for all residents, exceeding recommended minimums, with progressive increasing levels of responsibility (1) where senior residents mentor and guide junior residents through cases (4).
Encouragement of submissions to and presentations at region and national plastic surgery conference every year (3, 5)
Residents receiving interviews with and matching into desired fellowships (5).
Faculty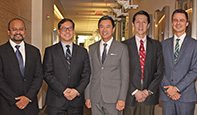 Our faculty includes Granger B. Wong, M.D., D.M.D., Professor, Interim Chief and Program Director; Michael S. Wong, M.D., Professor; Lee L.Q. Pu, M.D., Professor; Clifford Pereira, M.D., Associate Professor; Chetan Irwin, M.D., Assistant Professor; and Andrew Li, M.D., Assistant Professor (not pictured). All are committed to teaching the art and science of plastic surgery.