Donald P Hause Lectureship, Plastic Surgery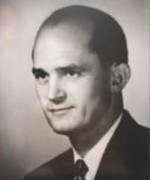 Dr. Donald P. Hause was a Sacramento plastic surgeon. Dr. Hause is best known as the first community plastic surgeon in the Sacramento area, providing patient care at the old county hospital now known as UC Davis Health. Dr Hause was highly respected within the Sacramento medical community and the UC Davis academic medical community.
To honor his memory, his family generously gave a donation in his name to enhance medical education, resident training, lectureships, and other educational activities. In 1989 the Donald P. Hause Memorial Lectureship was established and remains one of the annual highlights of our educational year.
Past Speakers
The Joy of Surgery - Nicholas Vedder, M.D.

Nicholas Vedder, M.D. - 2022
University Of Washington

Mentoring Surgical Residents & Faculty - Linda G. Phillips, M.D., F.A.C.S.

Linda Philips, M.D. - 2018
University Of Texas at Galveston

Orthoplastic Extremity Reconst. - from Replantation to Transplantation - L.Scott Levin, M.D. F.A.C.S.

Lawrence Levin, M.D. - 2017
Penn Medical

Pediatric Plastic Surgery - John F. Reinisch - M.D.

John Reinisch, M.D. - 2016
Harvard Medical School

Blood Supply And How It Impacts Breast Surgery - Elizabeth J. Hall-Findlay, M.D.

Elizabeth Hall-Findlay, M.D. - 2016
Banff Plastic Surgery
Pravin Patel, M.D. - 2015
University of Illinois, Chicago

The Evolution of Plastic Surgery - Peter C. Neligan - M.B., F.R.C.S., F.R.C.S.C., F.A.C.S.

Peter Neligan, M.D. - 2015
U of WA