Vascular Surgery Fellowship Program

The Department of Surgery's Division of Vascular and Endovascular Surgery established a two-year vascular surgery fellowship in 2012.
The program, approved by the Accreditation Council for Graduate Medical Education (ACGME), includes training at UC Davis Medical Center and the affiliated hospitals of the VA Northern California Health Care System (NCHCS) and David Grant USAF Medical Center. Training leads to eligibility for certification in Vascular Surgery by the American Board of Surgery.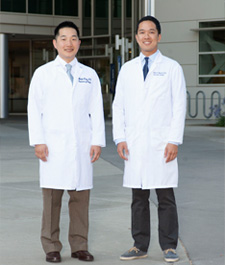 The fellowship offers a superb educational experience in facilities with state-of-the-art imaging, informatics, and other technologies. The faculty includes the largest group of board-certified vascular surgeons in the region, with diverse backgrounds and professional interests, all of whom perform and teach basic and advanced endovascular procedures. Vascular fellows become competent in the performance of a broad range of routine and complex open vascular surgery operations, including cerebrovascular, aortic, visceral arterial, peripheral arterial, venous, and other types of cases.
UC Davis also established its integrated vascular surgery residency in 2012. With the progression of residents to senior and chief resident positions, no fellowship positions are offered for 2016 and after. When the current fellows complete their training in 2017, the fellowship program will be closed to allow the educational focus to be on the integrated residency program.
UC Davis Graduate Medical Education (GME) programs are fully compliant with all policies and guidance of the ACGME. The Office of GME serves as a source of additional information about personnel policies, educational resources, state licensure, and other topics of interest to residents and fellows.