UC Davis Health offers new, dedicated Pediatric Pulmonary Hypertension Program
(SACRAMENTO)
Children diagnosed with pulmonary hypertension (PH) often spend many days each month in a doctor's office, along with their families, due to the multiple specialists involved in their care.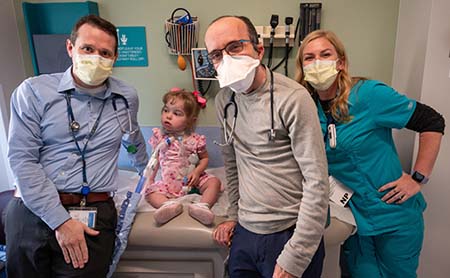 Fortunately for these families, UC Davis Health now has a pediatric pulmonary hypertension outpatient clinic that provides a one-stop shop experience. This novel, multidisciplinary approach is unique in the Sacramento region.
Now, a patient and their family may go to an appointment and see multiple physicians, a respiratory therapist, registered dietitian and a social worker -- all within a single visit.
"We're taking a patient-centered approach so families aren't juggling multiple appointments on different days," said Brian Goudy, a pediatric critical care physician and director of the pulmonary hypertension program. "This streamlined approach saves time for families and allows providers to collaborate and discuss the patient's needs as a team."
Specialists from pediatric cardiology, neonatology, pediatric critical care, pediatric cardiothoracic surgery, pediatric pulmonology and pharmacy are all part of this collaborative PH team.
"Our goal is to ensure the highest quality of care for these complex patients, by evaluating, diagnosing, and treating patients with all severities of PH, both in the hospital and in the outpatient setting," Goudy said.
We're taking a patient-centered approach so families aren't juggling multiple appointments on different days."
Pulmonary hypertension, which can be difficult to diagnose, is a rare condition. It is a type of high blood pressure that occurs in the arteries of the lungs. It is particularly common in premature infants and those with congenital heart disease. If untreated, it can lead to respiratory and heart failure.
Other features of the new program include:
A dedicated consult service to provide initial assessment and make recommendations for ongoing treatment and care for patients who are at risk for developing PH.
Medication and treatment protocols for inpatient and outpatient care following best practices based on the current understanding of the unique PH pathology in children.
A team of specialists that meets regularly to discuss patients who are currently hospitalized with PH as well as PH patients in the outpatient setting.
"Due to the complex nature and significant debilitation of this disease, as well as its overlapping causes, the current standard of care for managing these patients is within a center with a dedicated Pediatric Pulmonary Hypertension Program like ours," Goudy said. "Our team is pleased that we can offer this in the Sacramento region."