UC Davis School of Medicine graduates 108 new doctors
Commencement included the awarding of a posthumous degree to the family of Joshua Crane
(SACRAMENTO)
The UC Davis School of Medicine hosted its 52nd commencement ceremony Saturday at the Robert and Margrit Mondavi Center for Performing Arts in Davis.
"These last four years have proved you have what it takes to excel in your chosen profession amid a constantly evolving health care environment, triumphing over challenges and changing lives," Susan Murin, interim dean of the School of Medicine, told the 108 graduates seated on stage. "Take pride in the positive impact you will have on your patients, on your colleagues, your communities and those you will inspire to follow in your footsteps."
A medical degree was also awarded to the family of a student who died last summer, Joshua Crane.
The Class of 2023 persevered by navigating unexpected experiences that changed their medical education. The graduates are now prepared to go forth as leaders and change-agents in health care.
"Your class faced additional challenges during your years of medical school — a disruptive global pandemic, disturbing national events that shined a bright light on racism and inequities within our society and an extraordinarily divided nation," Murin added. "But your inspiring grit, resilience and passion have led to your success in medical school despite these challenges."
Keynote speaker Hendry Ton, associate vice chancellor for health equity, diversity and inclusion, shared stories from his time in medical school and as a resident, illustrating the enormous responsibility of caring for one's own patients.
"I know that you will learn, you will grow and meet the challenge of being a doctor because you are smart, because you are strong and because you are well prepared," Ton said. "But, most importantly your growth will be inspired by the trust your patients will place in you as their doctor."
The new physicians will begin medical residencies this summer across 14 states. More than half are going into primary care, which is well above the national average for a graduating class in the United States, and the vast majority — 82% — percent will stay in California.
Notable members of the Class of 2023
One of the student speakers was Rebecca George, who will begin her three-year residency in family medicine at UC Davis Medical Center in July. She reflected on the personal journey each graduate took to be able to wear their robes on the stage and the support they received from each other to get to this day.
"The camaraderie and care that has come from undertaking this together cannot be overstated," George expressed. "We believed in each other in ways we could not always believe in ourselves and by watching one another learned what we each were capable of. The friendships forged over the last four years are lifelong."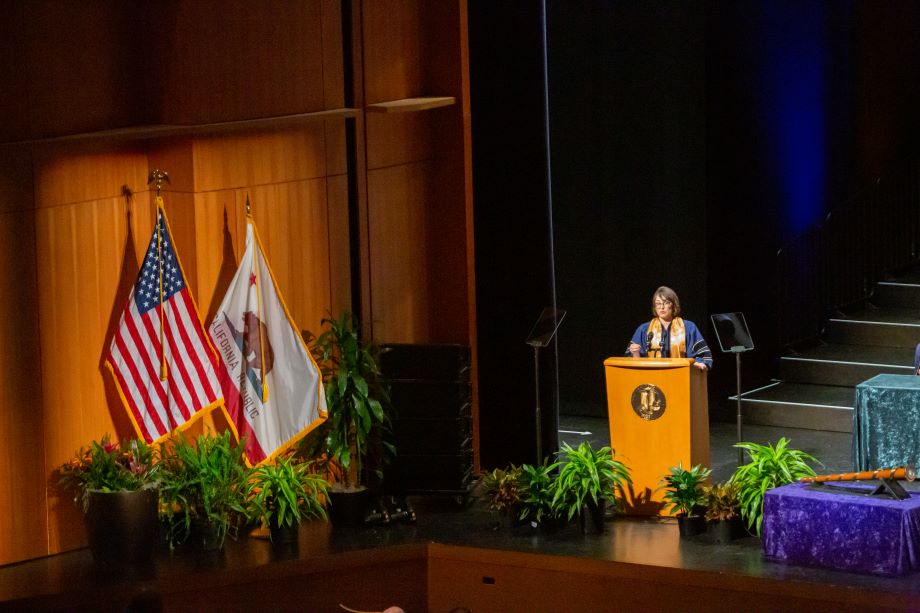 Commencement also included an emotional tribute where Sharad Jain, associate dean for students, presented the family of Joshua Crane with a posthumous Doctor of Medicine degree on his behalf. Crane was a fourth-year student and U.S. Navy veteran who perished in the American River last July while saving two rafters.
"Josh was a hero, not only in the way he died — but more importantly in the way he lived," Jain shared. "He was kind, generous and fully committed to a life of service."
Crane's family was also presented with The Golden Goblet Award, which is bestowed each year to the member of the graduating class who, in the opinion of the class, best and most consistently demonstrates the joy and commitment to serve others.
Following the presentation, deans draped each M.D. recipient with a ceremonial hood and participated in reciting The Physician's Oath. Reflecting the richness of the school's diversity, the oath was read in English and in 19 other languages native to the students or their families.
The commencement ceremony can be watched here.