UC Davis School of Medicine professor elected president of Society for Neuroscience
John Morrison reflects on the new role, his career and the future of the field
(SACRAMENTO)
In November, UC Davis Health neurology professor John Morrison will begin his term as president-elect of the Society for Neuroscience. Morrison is the director of the California National Primate Research Center at UC Davis and a distinguished professor in the School of Medicine's Department of Neurology.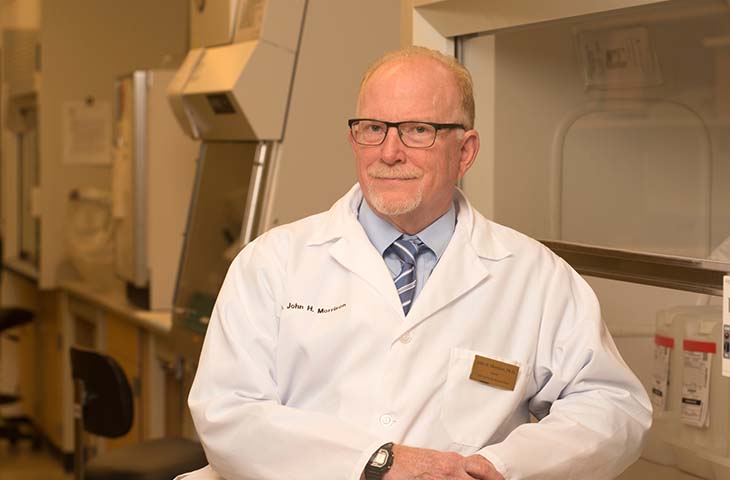 Morrison is taking on a three-year commitment: one year as president-elect, one year as president, and one year as past president. The three presidents work together and serve as an executive council.
With nearly 35,000 members in more than 95 countries, the society strives to advance neuroscience, support the neuroscience community, advocate for the field, and educate the public. Morrison will officially step into his president-elect role at the society's annual meeting in Washington D.C. next month. He is the second UC Davis faculty member to be elected president of the society. It's uncommon for a university to be represented twice.
"It's a pretty big deal, I have to say," Morrison said. "And it's important for UC Davis to have faculty in roles like this. It's a very important role in the national and international community and shows there are international leaders at UC Davis."
An early fascination with neuroscience
Morrison's neuroscience journey began at a young age. By the time he was 10 years old, he already knew he wanted to be a biologist, and as he progressed through high school, his fascination with the brain grew.
Neuroscience wasn't offered as a college major at that time, so Morrison charted his own path. "It was something I loved right away," he recalled. "I knew I wanted to be a neuroscientist as far back as I can remember."
Morrison has been to almost every annual meeting of the Society for Neuroscience since 1976 when he first joined as a graduate student. He's witnessed the society grow from a few thousand members to more than 30,000. He's held various leadership positions over nearly five decades with the organization, including chairing committees and serving as secretary.
"I was happy, and I was proud to be elected," Morrison said. "It's been a big part of my life, and so it seemed like a culmination of all the efforts that I've put into the society."
It's a very important role in the national and international community and shows there are international leaders at UC Davis."
At 71, Morrison has accomplished a lot, from publishing significant research in prominent scientific journals to testifying in front of Congress. Now, his focus is on the future of the field. He acknowledges how challenging it is for younger scientists to secure jobs, especially in academia, and he feels the science and professional environments have changed.
"I'm much more concerned with the next generation, with my trainees," said Morrison. "I'm concerned with helping them become everything they can be. I'm concerned with where science is going. I'm concerned with how the public views science."
Reflecting on his career, Morrison notes how much the field has grown. While we've gained substantial knowledge about the brain and are starting to find ways to impact disease, he feels some frustration at the pace. However, he's encouraged by public interest and doesn't take that responsibility lightly.
"There's this extraordinary hunger from the public for information on the brain and brain diseases," Morrison explained. "The more the public knows about neuroscience and how we can impact these terrible brain disorders, the more they're going to support what we do."
A much lighter responsibility for Morrison when he becomes society president will be booking special guests for the annual meeting. He already has someone in mind.
"Bob Dylan, but he's not going to do it," Morrison joked. "But I might write him a letter!"