UC Davis Children's Hospital cancer patient still smiling after treatment
(SACRAMENTO)
Before she was even born, Madelyn O'Brien faced unimaginable odds.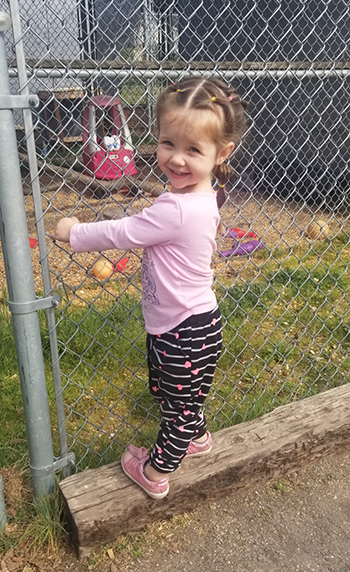 Diagnosed in utero with a tumor on her spine, Madelyn was four days old when she had the first of several surgeries at UC Davis Children's Hospital.
Then came the chemotherapy and this tiny baby fought for her life, losing her hair in the process. Through it all, Madelyn not only kept a brave face, but she actually smiled through the adversity, flashing her toothy grin and melting hearts.
"She is so strong," said Devin O'Brien, Madelyn's dad. "We are so lucky."
More surgeries followed. The family spent months in and out of the hospital. But with expert care from the team at UC Davis Children's Hospital, Madelyn returned home to Chico. Her most recent scan shows no sign of the tumor and for the time being, her treatment is complete.
As her hair continues to grow, Madelyn, her parents and big brother – whom she affectionately calls, Bubba – look to the future with hope.
"We absolutely loved all of the care Madelyn received at UC Davis Children's Hospital," said Vanessa Wright-Gosnell, Madelyn's mom. "Madelyn is happy and healthy and doing great! She hit her one-year cancer free in August of 2019 and her labs remain low. It's amazing."
UC Davis Children's Hospital is the Sacramento region's only nationally ranked, comprehensive hospital providing care for infants, children, adolescents and young adults with primary, subspecialty and critical care. It includes the Central Valley's only pediatric emergency department and level I pediatric trauma center, which offers the highest level of care for its critically ill patients, as well as a level I children's surgery center. The 129-bed children's hospital includes the state-of-the-art 49-bed neonatal and 24-bed pediatric intensive care and pediatric cardiac intensive care units. For more information, visit children.ucdavis.edu.