DAISY Award—Jerry Bambao, BSN, MS, RN-BC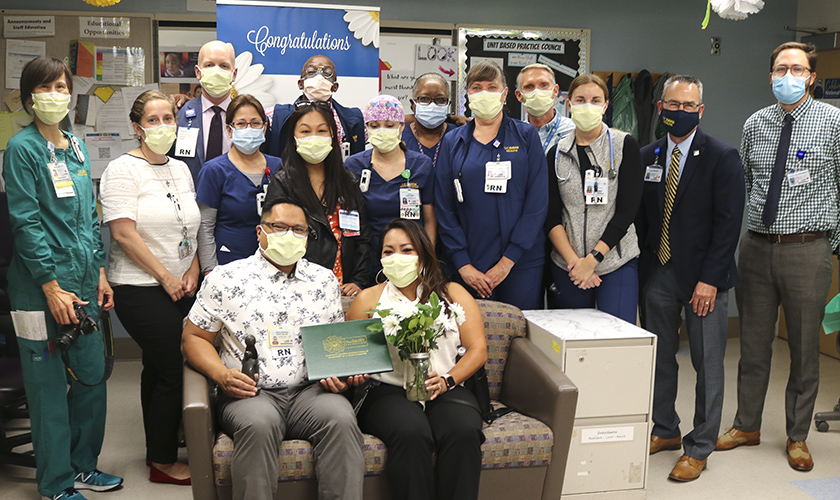 Jerry Bambao, BSN, MS, RN-BC
Tower 4 ENT/Internal Medicine
Jerry has been a part of the Tower 4 ENT/Internal Medicine unit for his whole nursing career. He started as a Student Nurse Extern, got hired as a new graduate nurse, became a Clinical Resource Nurse and is currently an Assistant Nurse Manager. He is a leader who cares for his team and for the patients we care for.
I was caring for an ENT patient who had a complicated jaw fracture and was transported to UC Davis Medical Center because her local hospital did not have the resources to properly care for her. She was very far from her home and her loved ones. Her mouth was wired shut and she was told she needed to have a second surgery. She started to become more anxious, frustrated, and agitated. She started pacing in her room and in the hallways. She then refused her medications and started pulling off the wires in her mouth. Then she packed her belongings and tried to leave the unit. At first, I was able to redirect her back into her room and convince her to stay; however, it became increasingly difficult to redirect her as the shift went on. Finally, she pulled out her IV and said she wanted to leave AMA. She refused to go back to her room. As I called her primary team to request that they come talk to her, Jerry calmly approached her and was able to get her to her room. As she sat at the edge of her bed, Jerry crouched down so they were eye to eye, and he listened to her feelings and concerns. He validated her feelings of being scared and alone. He then explained the importance of the surgery she needed and ensured her that she was safe and getting the best care for her injuries at UC Davis Medical Center. Finally, he asked her, what can we do to make you more comfortable here? She was shocked that she was being asked that question. She stated a book would help keep her occupied and calm. Jerry explained that we did not have any books available, but he would go to the store on his break to get one for her. The look on her face and the tone in her voice softened up and it was evident that the patient felt seen, heard, understood, cared for, and important. This encounter with Jerry changed her immediately. By attuning to the patient, Jerry was able to form a therapeutic relationship with this patient. For the rest of her hospitalization she was calm, cooperative, happy, and appreciative. By staying for that second surgery, she was able to properly fix her jaw. Not having that surgery would have been detrimental for her health.
Jerry is an exceptional nurse and leader. His compassion is evident in everything he does, especially when it comes to seeing a patient as a person. Jerry exemplifies the traits worthy of a Daisy Award on every day he works.