Featuring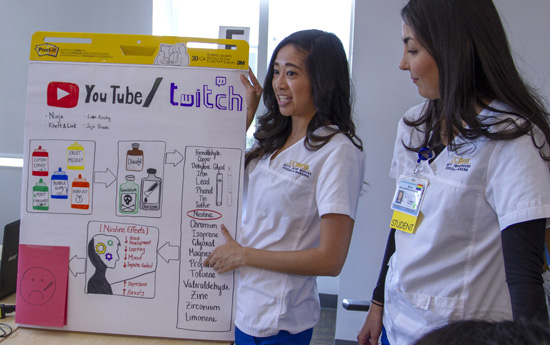 Future nurses design tools to help smokers quit
Former smokers and tobacco treatment experts partner with nursing students to design innovative high-tech solutions to stop tobacco use as part of the Technology and Innovations in Health Care course. The course is designed for nursing students to think creatively about the practice, process and delivery of health care.
---
School seeks inaugural Heather M. Young fellows
Postdoctoral scholars with interest in healthy aging sought as inaugural Heather M. Young Postdoctoral Fellows. Up to three researchers will work with mentors Dean Emerita and Professor Heather M. Young and Associate Professor Elena O. Siegel.
Memories of caring for great-grandmother leads nurse to pursue research to support family caregivers
Assistant Professor Fawn Cothran says watching her own family care for a relative with dementia led her to become a gerontological nurse who conducts research focusing on the stresses that affect African-American family caregiviers.
---
Video: Family Caregiving Institute team makes strong showing
Faculty and staff in the Family Caregiving Institute at the Betty Irene Moore School of Nursing at UC Davis led a number of presentations, symposiums and poster sessions at the 2018 Scientific Meeting of the Gerontological Society of America (GSA) in Boston Nov. 14-18.
Learn more »