Exemplary Professional Practice
Professional Growth and Development
Nurses at UC Davis Medical Center believe in creating an environment that promotes professional learning, growth, and development. We view learning as a life-long process, which is essential to the professional growth and development of the professional nurse striving to deliver optimal patient care in a rapidly changing healthcare environment.
Professionalism
Professionalism informs the conduct, aims, and qualities that characterize the profession of nursing as a whole or an individual in the profession. It is determined by cognitive, attitudinal, and psychomotor attributes – how we comport ourselves with fellow nurses, interprofessional colleagues, patients and families. Attributes of professionalism in nursing at UC Davis include knowledge, a spirit of inquiry, accountability, autonomy, advocacy, innovation and vision, collegiality and collaboration, and ethics and values. UC Davis offers a variety of processes and resources to enhance these attributes.
UC Davis nurses support professional nursing practice through the peer review process, through which we examine and ensure adherence to the highest standards of our profession. This process supports many of the attributes of professionalism in nursing at UC Davis. Individuals, institutions, and the nursing profession benefit from effective peer review. Participation in the peer review process stimulates professional growth and offers opportunities to set and achieve new goals for ourselves as professional nurses.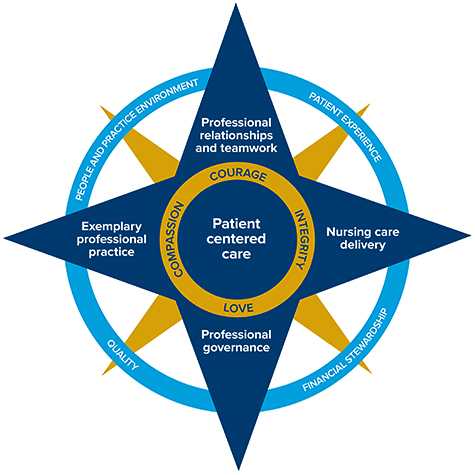 Advancing our Profession
UC Davis nurses seek to advance our profession, taking up the charge of the IOM Future of Nursing Report to act as full partners in the transformation and improvement of healthcare. We are engaged in shaping the future members of our profession as we share clinical expertise at regional nursing schools on a variety of topics in which our nurses are recognized as experts. Nurses at UC Davis collaborate with peers and teach our nursing and interdisciplinary colleagues internationally. We provide fellowship opportunities to advanced practice providers seeking to learn from our team. UC Davis nurses are engaged in our professional organizations as leaders, board members, and committee volunteers, and actively work to advance our profession.
Just Culture
We are committed to a Just Culture. We encourage the reporting of errors, lapses, near-misses, and adverse events. It is through this reporting and event analysis we learn what went wrong, or could have gone wrong, and how to prevent it from happening again. Our attention is on identifying and correcting system imperfections, supporting systems to enable staff to learn from errors and near misses and prevent recurrence, while distinguishing human errors and system errors from unsafe, blameworthy actions.
Clinical Expertise
Obtaining nursing specialty certification through professional nursing organizations is encouraged and supported through financial support and course offerings. We believe that nursing specialty certification contributes to better patient outcomes.
Nurses place a high value on professional development in order to provide optimal care for their patients and to achieve their own personal and professional satisfaction.
Evidence-Based Practice
Nurses integrate clinical expertise, patient values and preferences, and the best research evidence to guide nursing care to achieve optimal outcomes. The IOWA Model of Evidence-Based Practice is used to promote excellence in health care.
Research
Nurses seek answers to clinical questions when evidence is not available to inform practice. Nurse-initiated research is an important part of clinical inquiry at UC Davis. We collaborate as leaders and as co-investigators in research that generates scientific discovery and insight into the human experience. The Center for Nursing Science promotes the development of nursing science and its implementation in practice.
Optimal Outcomes
Nurses provide individualized, holistic patient and family centered care. Optimal outcomes are achieved through high quality care, the nursing delivery care model (primary nursing), skilled communication, leadership and teamwork. Nurses collaborate on performance improvement initiatives, implement evidence-based practice, adhere to clinical practice standards and participate in research to achieve optimal outcomes.