Professional Practice Model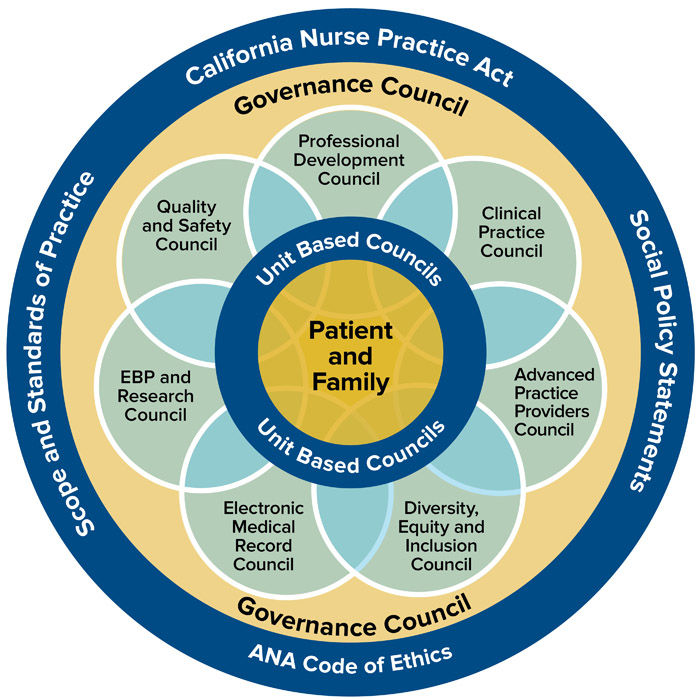 Leadership
Nurses at UC Davis Medical Center are transformational leaders at all levels. Nurses are respected for their expertise and structures are in place to support engagement in the professional practice of nursing. Nurse leaders use their clinical expertise to advocate for professional practice and to advocate for human and fiscal resources. Teamwork and collaboration help achieve optimal outcomes.
Professional Governance
Professional governance is a structure that empowers professional clinical nurses to contribute collaboratively as decision makers regarding the nursing practice environment. This includes standards of practice, policies and procedures, resource utilization and stewardship, evidence-based practice and research, and quality and performance improvement. The system-wide councils exist to support the Unit-Based Practice Councils. The purpose of the system-wide governance councils is to coordinate the activities to outcomes in the areas of nursing, evidence-based practice and research, education, relationship-based care, nursing excellence, technology, and nursing quality.
RNs at UC Davis Medical Center serve in key roles by participating in unit-based practice councils structured by professional governance and hospital-wide committees.
Professional Governance Council
Clinical Practice Council
Research Council
Quality & Safety Council
Advanced Practice Nurse Council
EMR Council
Professional Development Council
Unit Based Practice Councils
Department/Unit Staff meeting