Professional Relationships and Teamwork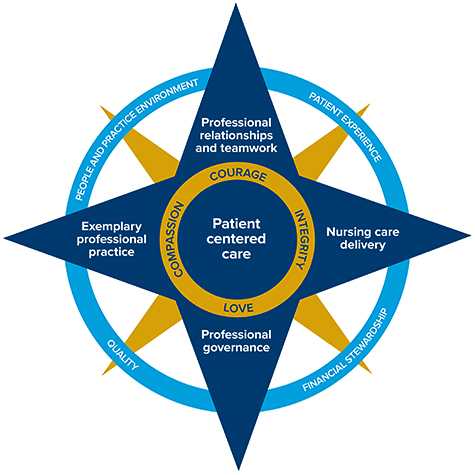 Healthy Work Environment
Nurses at UC Davis Medical Center believe that a healthy work environment is an essential element in creating the context for engagement in the professional practice of nursing. A healthy work environment is actualized through alignment with the six standards for establishing and sustaining healthy work environments identified by American Association of Critical Care Nurses.
We model and educate techniques for skilled communication; we work to collaborate with each other and other disciplines by identifying and engaging stakeholders and seeking feedback for our nursing practice; we are effective decision makers as evidenced by our policies, councils, and committee involvement; we continuously evaluate the appropriateness of our staffing practices through electronic staffing programs, patient satisfaction, and nurse satisfaction; and we recognize our contribution to the organization through established programs to promote nursing practice. We, as RNs, embrace our practice with the responsibilities and privileges it brings.
Nurse satisfaction is measured by Press Ganey through the employee engagement survey. UC Davis nurses show high engagement and autonomy scores and feel strongly that they have opportunities to influence nursing practice and have the freedom to act in the best interest of their patients. We value the ability to effectively communicate and collaborate with interprofessional teams. Nurses feel valued and believe there are opportunities to learn and further develop professionally throughout their careers. We are engaged in action planning to improve our work environment.

Relationship Based Care
Relationship-Based Care identifies three crucial relationships for the provision of humane and compassionate health care. These three relationships are the nurse's relationship with the patient/family, relationships among colleagues, and the nurse's relationship with self. It includes principles that shape caring behaviors, and these principles guide the transformation of infrastructure, processes, systems, and practices to support caregivers in all disciplines in creating therapeutic relationships with patients and families.

Collaboration
Nurses collaborate with all disciplines of the health care team to achieve best patient outcomes. This requires consistent and coordinated care of a patient through a unified plan of care, information sharing amongst health care team members and respect for the important contributions of each member.

Professionalism
We support professional nursing practice based on the foundational principles of accountability, autonomy, and standards. Peer review is the process through which we nurses examine and, ensure adherence to the highest standards of our profession. Individuals, institutions, and the nursing profession benefit from an effective peer review program. With respect to the individual, participation in the peer review process stimulates professional growth.

Coaching and Mentoring
Experienced nurses mentor and support new graduate nurses as they progress through the Vizient/American Association of Colleges and Nursing (AACN) Nurse Residency Program. The coaching provided by preceptors, clinical facilitators, and mentors facilitates new nurses as they acquire the knowledge, skills, and confidence to provide safe quality care.
In addition, as professional nurses we acknowledge our collective role in sharing our knowledge and expertise with our peers through both informal and formal mentoring opportunities. As we move through our careers we maintain that commitment to providing positive role models for others and obtain new mentors for ourselves as needed. The Rising Nurse Leader (RNL) program supports and guides our next generation of nurse leaders. Each participant is paired with a nurse mentor who exemplifies nursing leadership and can provide knowledge, support and guidance to the RNLs in navigating the complex and demanding roles in clinical and managerial leadership. This mentorship relationship inspires and gives confidence to the mentee while providing the mentor with a valued colleague.

Recognition
Recognition of the nursing profession is both formal and informal. Nurses are recognized many ways for their clinical expertise, leadership, compassion and caring. Formal recognition may include: serving as a preceptor, committee member, support to present work at a national/international conference or internal presentation, and receiving the prestigious DAISY award. Informal recognition occurs daily and comes from knowing one has done a good job, from patients and their families, and from peers and leaders.

Community Outreach
As community leaders, nurses are committed to improving the health of our community and globally. RNs improve the health of the community through events such as; blood pressure screening, health and safety fairs, immunization clinics, as well as sharing clinical expertise at local nursing schools on topics including trauma, oncology burn care, critical care, pediatrics, obstetrics and more. UC Davis nurses also improve the global community through medical mission activities in countries such as: Africa, Cambodia, Guatemala and Uganda.