DAISY Award—Mandy Schesser, MS, AG-ACNP-BC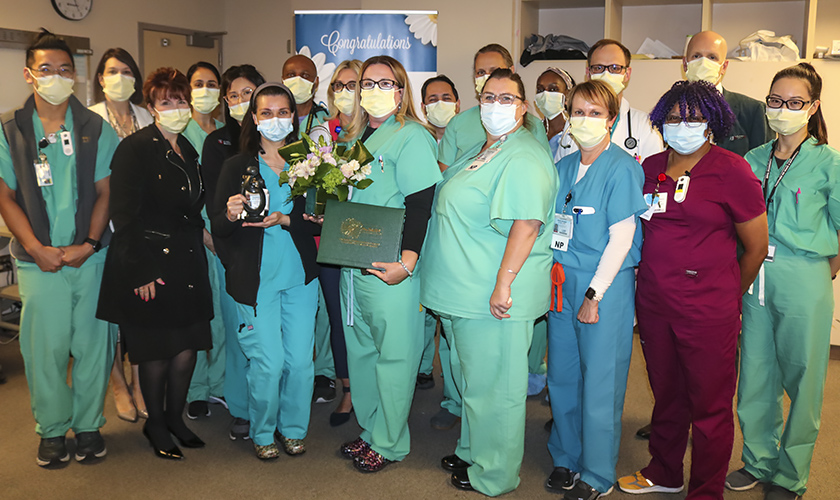 Mandy Schesser, MS, AG-ACNP-BC
Paracentesis Clinic
I would like to nominate Mandy Schesser for a Daisy award for a variety of reasons. Mandy and I have known each other for many years, starting when we met as student nurse externs in the UC Davis Emergency Department in 2003/04. Our paths then diverged when we graduated nursing school and she became a SICU nurse while I took a position in another hospital. We reconnected in 2014 when we both found ourselves in the Acute Care Nurse Practitioner program at UCSF and continued our personal and professional relationships on the Trauma Service at UC Davis upon graduation. While Mandy enjoyed her role on our service, she grew to need a deeper connection with her patients than is feasible on the Trauma team. In an effort to meet that need, she left Trauma Surgery about a year ago to join Radiology in the paracentesis clinic located in the hospital.
To say Mandy has embraced her new role is a true understatement. Mandy and I have stayed close personally and professionally and while, as a person, I think she is incredible, the role she holds in her patient's lives in the paracentesis clinic is, at a minimum, inspiring. She makes a true effort to get to know them and their families, what their hobbies are, what their pasts have entailed, what their concerns are about their chronic and often terminal disease processes. Early on in the transition to the new role, she quickly identified that many of her patient's do not have a simple understanding of their diseases. She saw the time spent with them as their abdomen's drained as a perfect opportunity to connect with them and explain, in common language, what is happening in their bodies. She provides a welcoming, non-biased and non-threatening environment for her patient's to gain back some power over their diagnoses by learning, gaining new understanding and most importantly, being truly seen as a person and not a time slot on the schedule. She exchanges cooking recipes with them, listens to updates about their loved ones, offers sincere empathy to many who are expected to pass imminently. She provides an outlet for them to cry, laugh, express fears all while providing superior technical care. I have witnessed her working with the radiology schedulers to often accommodate patients who have a difficult time adhering to set appointment times. She consistently fits them in as she understands their struggles in life outside the hospital that affect their ability to make it to their appointments (i.e., transportation challenges, substance abuse, mental illness, and overall not feeling well enough to leave the house). She does this because she knows the procedures she performs directly improves their quality of life, even if their time until death is limited.
Mandy's dedication to professional excellence is unwavering. She has developed enriched provider-staff relationships in Radiology as she promotes the Nurse Practitioner role as a leader on the health care team. She has developed standardized procedures and has written policies related to the medical care she is providing that did not exist previously. I have long felt inspired by Mandy but I decided to write this nomination when she read an email to me that she recently received from a Dr. She has never met this Dr. but often sends staff messages to her and her team about their complicated patients. This Dr. echoed what many others have said- that Mandy is the provider patient's request to see, that her warmth and kindness, along with superior technical skills, provide a bright spot in their often difficult days. The email included an offer for her to consider working with their team for the aforementioned multitude of reasons though they have never even met her. Mandy exemplifies what all provider's should strive to be, APPs and physicians alike, and I can't think of another person more deserving of the Daisy recognition.