Corporate and foundation giving
There are many ways that corporations and foundations can enhance the mission of UC Davis Comprehensive Cancer Center.
For information specific to your organizational needs and guidelines, please contact:

Keeman Wong
Senior Director of Development
916-734-9322
---
Philanthropy in Action
Inspiring stories from some of our corporate and foundation philanthropists:
Keaton's Child Cancer Alliance
Keaton's Child Cancer Alliance (formerly known as Keaton Raphael Memorial), a Roseville-based philanthropy, has been a leading source of support for pediatric cancer patients and researchers at UC Davis since 2000. Created and named for Keaton Raphael, who died at age 5 in 1998 of neuroblastoma, the organization has raised millions to provide children with cancer and their families with emotional, educational and financial support, as well as to increase awareness and fund pediatric cancer research. Their direct contributions to UC Davis Comprehensive Cancer Center include sponsorship of "Keaton's Korner," a play area in the Pediatric Infusion Center, "End of Therapy" parties for children when they complete treatment, organization and hosting of Sacramento-area St. Baldrick's Day fundraising events, innovative pediatric cancer research grants and pediatric clinical trials support.
---
Catch Some Air
Through Catch Some Air is a business created by sisters Brianna and Kristine Tesauro after Kristine was diagnosed with leukemia. Bored during long stays at the UC Davis Medical Center or in the cancer center's pediatric infusion center, the two started drawing and making whimsical, cheerful T-shirt designs. They now create and sell the shirts online and have raised enough money to give shirts to other children going through a cancer diagnosis and treatment.
---
St. Baldrick's: Shaving for Cancer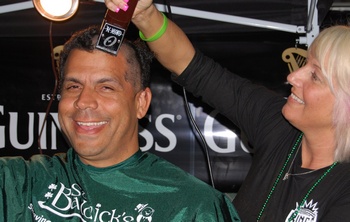 The St. Baldrick's Foundation is a volunteer-driven charity committed to funding the most promising research to find cures for childhood cancers and give survivors long and healthy lives. Through its head-shaving events throughout the country each year, the organization has raised over $178 million for pediatric cancer research. The St. Baldrick's Foundation events in the Sacramento region are hosted by the Keaton Raphael Memorial (KRM), a Roseville-based philanthropy. Through its partnership agreement with St. Baldrick's, KRM gets a significant percentage of event proceeds for distribution to local pediatric cancer research efforts, including at UC Davis. KRM has given more than $1.4 million to the cancer center over the last several years, including more than $130,000 in 2015.
---
Hyundai Hope on Wheels
Hyundai Hope On Wheels is a national independent 501(c)(3) nonprofit organization committed to helping kids fight cancer. The program is supported by Hyundai Motor America and its more than 820 dealers nationwide. Every time a new Hyundai vehicle is sold in the U.S., Hyundai customers join Hyundai and its dealers in this cause. Since 1998, it has donated more than $101 million for pediatric cancer research.
---
Beads of Courage
Beads of Courage provides an innovative, arts-in-medicine approach to children fighting chronic diseases. Each pediatric patient is provided with a bead strand with his or her name. As treatment progresses, the child receives a unique, handmade glass bead to commemorate each procedural milestone. The result: a beautiful strand of beads that "tells" each child's story. The program, which started in 2003, has served children nationwide. UC Davis Children's Hospital introduced Beads of Courage to patients with a cancer diagnosis in May of 2008. Since then, more than 150 patients have received beads as a way to memorialize their cancer fight. The beads have been so successful among oncology patients that the Division of Cardiovascular Medicine now offers the resource to their pediatric patients. Children receive beads while in the hospital, at the Children's Surgery Center and in the Cancer Center's Pediatric Infusion Center.
---
UC Davis clinical scientist wins second Hartwell Foundation award for pediatric cancer research
UC Davis pediatric oncologist and researcher Noriko Satake has been awarded a 2015 Hartwell Biomedical Research Collaboration Award from The Hartwell Foundation, a philanthropy that funds innovative and leading-edge biomedical research with the potential to benefit children of the United States. This is the first time a Hartwell investigator from UC Davis has received the Foundation's inter-institutional Collaboration Award.
---
Joy Jars - Jesse Rees Foundation
Guided by the slogan "NEGU" (Never Ever Give Up), the Jessie Rees Foundation strives to ensure that every child fighting cancer has the support and resources they need to overcome their battle. The Foundation was started by 12-year-old Jessica Joy Rees, who was diagnosed with two rare brain tumors. During her fight, she asked her parents how she could help all the children she met who were also battling cancer. From this simple question, Joy Jars were created. Filled with new toys and activities, JoyJars let children fighting cancer (either at home or in the hospital) know they are not alone. Jessie personally filled over 3,000 JoyJars while she was alive and since her passing, more than 100,000 JoyJars have been delivered to children worldwide. The Jessie Rees Foundation has brightened the day for dozens of children at the UC Davis Children's Hospital and Comprehensive Cancer Center.
---
Team Will
Team Will is a group of cyclists that aims to raise public awareness of childhood cancer through various cycling activities and events. The organization originated in Folsom in 2005 after William Kiefer, a young boy with a rhabdoid tumor of the kidney, lost his battle with cancer just five months after being diagnosed with the disease. Now, riders of all ages and abilities trek across the country to raise funds and awareness about pediatric cancer. Team Will has so far raised $180,000 for pediatric cancer research and family support services. Their stops at UC Davis Children's Hospital include fun activities for the pediatric patients, who then sign the riders' jerseys before they set out on their long cycling tours. The team is planning its seventh coast-to-coast cycling event in June, starting in San Francisco and ending in New Jersey. They will stop at 10-12 hospitals and attend community events along the way. Funds raised will go to families who have children with cancer and to Camp Okizu, a program for families of and children with cancer.