Touchdown: Burn survivor gets support during toughest challenge of his life
Local graduate surprised by football teammates off the field at UC Davis Health
(SACRAMENTO)
Gabriel "Gabe" Gonzalez thought the summer after his senior year would be spent hanging out with friends. But for the past five weeks, he hasn't seen one of them.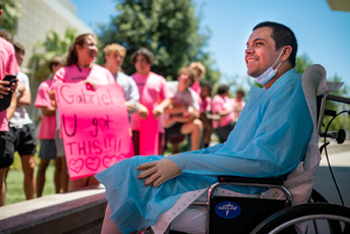 Instead, the Woodcreek High School graduate spends his days undergoing physical therapy (PT) and recovering from third-degree burns over 46% of his body at the Firefighters Burn Institute Regional Burn Center at UC Davis Medical Center.
"Overall, he's doing pretty well," said Coleen Gonzalez, his mom. "The doctors and nurses here have been absolutely wonderful. Because he's young, healthy and strong, everyone has been positive he'll get through this since day one."
A tragic accident
Before graduating, Gonzalez played right guard for the Woodcreek Timberwolves in Roseville. He was with some of his football teammates and other friends at a post-prom party on May 16 when disaster struck.
A firepit accident sparked uncontrollable flames. Four people were rushed to the hospital. Gonzalez and Jackson Allen required treatment at the burn center.
"It was horrible. Burns all over his hands, arms and legs," his mom recalled.
The two survivors kept tabs on each other while both were in the hospital. Allen was discharged in early June. But for Gonzalez, the summer hanging out with friends was put on hold.
His parents, Coleen and José, are with him every day. They were there after two surgeries. They are there after daily sessions with the physical therapists.
A surprise visit
Then, on June 24, Gabriel Gonzalez received some new visitors. 40 former teammates and friends surprised him at UC Davis Medical Center. They gathered outside his second-floor window, thinking they would only get to wave to him.
Meanwhile inside, Gonzalez thought his therapist was taking him outside for a new PT exercise. When he was wheeled out, the shocked faces — from both the teammates and Gonzalez— could not be contained.
Not only was it his first time to see friends, but it was also his first trip outside the hospital since May 17. He smiled at a sea of friends dressed in pink t-shirts — his favorite color — donning his jersey number — 67 — and holding posters that read, "Stay strong brotha," "Gabriel u got this" and "Life is tough, but so are you."
"I had no idea there would be so many of his teammates here. It really lifted his spirits and he did not want the time with friends and teammates to end," said his mom. "A huge thank you to everyone at UC Davis for making this happen."
Gonzalez' therapist rolled his wheelchair in front of the team. Then, to everyone's surprise, Gonzalez stood and walked roughly 20 feet.
"It was great. It felt good," Gonzalez said. "Definitely surprised."
The moment felt good for his supporters as well.
"It was such a surprise to be able to see and talk to him in person. The worst is over. It is only going to get better from here," said graduating football teammate Scott Miller. "Gabriel was never in a bad mood during football practice and his same high spirits will help him recover from this."
"The entire Wolf Pack, made up of family and friends, is behind Gabriel and has been keeping him in their thoughts and prayers," added his aunt, Janine Loving. "Seeing him for the first time in two months was phenomenal and brought instant tears."
Unexpected support
Colleen Gonzalez says this surprise visit is just one more way their family has not felt alone during this ordeal.
"All the support from our family and the community has been overwhelming. I'm amazed at how much they have come together to help us," she said. "And the team here at UC Davis. I've always heard UC Davis is great, but we had never experienced it, thank goodness, until now. We're so fortunate to have such a burn unit in our backyard."
"Burn care, similar to football, is a team effort. The UC Davis burn team united to provide him with state-of-the-art care that will enable him to rejoin his teammates and return to a normal life," said Tina Louise Palmieri, chief burn surgeon.
The tragedy also offered an opportunity to educate young people on the dangers of fire.
"Doesn't take much for a fire to turn life-threatening," said Kevin Snider, a retired chief — now senior chaplain — of the Sacramento Metropolitan Fire District. "Never pour any flammable liquid, including gasoline, on an open fire. Fumes can travel and land on clothing of individuals, catching them instantly on fire."
When Gabriel Gonzalez returns to his normal life, he still has a team behind him. A new support group for young adult burn survivors launches in July in collaboration with the Firefighters Burn Institute.
"We feel young adults face unique challenges during their healing process," said Lauren Spink, burn outreach coordinator. "This group is where burn survivors can support each other no matter where they are in their recovery."
When he's discharged in the coming weeks, Gabriel Gonzalez looks forward to going back to the gym, starting Sierra College in the fall and yes, hanging out and playing video games with friends.