Why Choose UC Davis?
Year after year, UC Davis continues to show why it's one of the nation's leading public universities and a top research institution. UC Davis Health is a hub of innovation where students, trainees, faculty and staff from nearly 100 post-graduate majors bring unique and creative approaches to providing the highest quality patient care. Harnessing the power of an entire university's nationally ranked resources and research, our teams tackle the most pressing health care issues facing the world today. Our academic health center includes the following:
---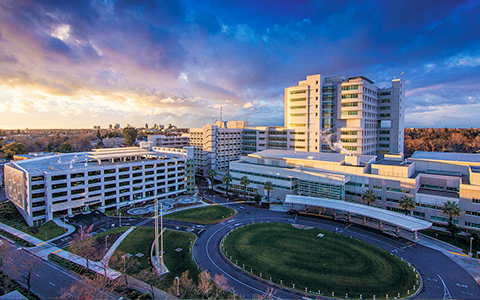 UC Davis Medical Center and Rehabilitation Hospital
Advancing Health and Education
---
---
---
---
What Makes UC Davis Special?
The culture, hands down, is unmatched. There isn't a group of like-minded individuals from a diverse background anywhere else that have the same mission, which is to treat our patients in a holistic and culturally sensitive manner and to upkeep cultural humility.
— Tyler Carcamo, 1st year resident, surgery
The people at UC Davis have become a second family to me. I know that my fellow co-residents and faculty have my back and will support me as I explore and pursue my goals. I have no doubt that the friendships and mentorships formed here will last a lifetime.
— Daphne Olivia Darmawan, 2nd year resident, pediatrics
At UC Davis, residents experience exceptional training and a world-class educational experience. There's an extraordinary group of clinical faculty dedicated to teaching, but we also are awarded the privilege to treat patients from a diverse population base with wide-ranging medical conditions.
— Connor Delman, 4th year resident, orthopaedic surgery
Part of the UC Davis difference is our faculty development – the opportunity that faculty have here for honing their own craft of teaching. But then there's our collaboration. It speaks to our value of interprofessionalism and our commitment to helping students realize their dream.
— Kathryn Sexson, assistant clinical professor, Family Caregiving Institute at the School of Nursing
My critical skills were definitely sharpened more through UC Davis guiding me to think about things outside of a medical problem. I'm constantly thinking beyond the health issue, asking questions like: "Does my patient have running water?" and "What are their resources to afford medication?"
— Kayla Medina, School of Nursing Class of 2018, family nurse practitioner program
You choose UC Davis to belong to a diverse and inclusive community. You choose UC Davis because we support each other and elevate each other's voices. You choose UC Davis because we are family.
— Joseph Kim, 4th year resident, internal medicine and psychiatry