Making dreams reality
Family nurse practitioner program director mentors students in ways beyond nursing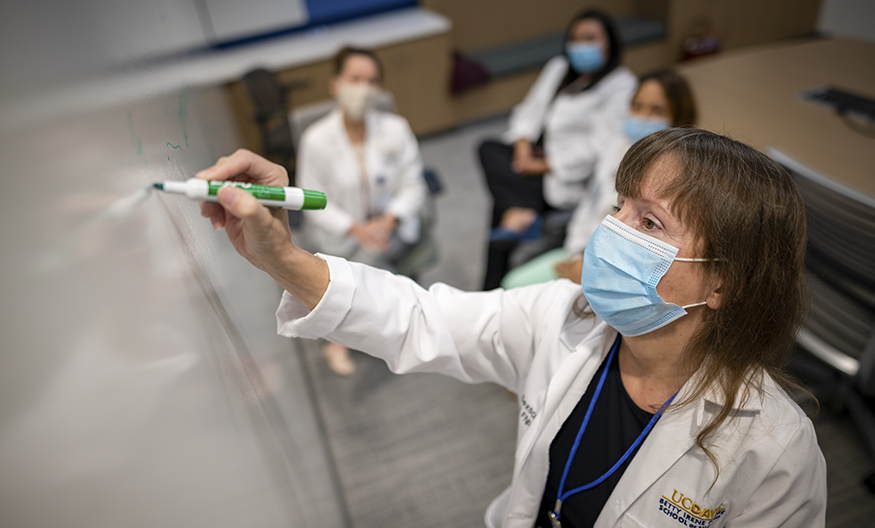 Kathryn Sexson, family nurse practitioner program director, works with a small group of nurse practitioner students.
Kathryn Sexson is a dream maker. Sure, she serves as program director for the family nurse practitioner (FNP) program at UC Davis. But for students at the Betty Irene Moore School of Nursing, Sexson's mentorship and guidance make all the difference.
"When I came to her for her advice, she may not have thought it was a big deal," recalled David Canubida, a 2020 FNP graduate. "But one piece of advice or one sentence can have a huge impact on someone at that time in their life."
Canubida described the relationships he had in his bachelor's-degree program as the complete opposite of what he experienced at the School of Nursing. He chose UC Davis in hopes he could forge bonds with his professors.
"As faculty, we realize this is a dream for most of our FNP students. They want to make a difference in the world and a difference in what they're able to do at the bedside," Sexson said. "Mentoring isn't just about getting them through the program. It's about helping them think about their role as FNPs. We challenge them on a daily basis to be more than they thought they could be."
School of Nursing faculty recognize the diversity of experiences students bring to the school. Students come from different backgrounds and educational forums. Not all have developed the skillset needed for graduate-level education. That's where the faculty role is crucial.
"We identify students who are challenged in more ways than others and bring them together. In study groups, they share their ah-ha moments, which makes the learning richer. We discuss ways they might approach the material, so they can integrate concepts across classes, instead of siloed learning," Sexson explained.
"I could ask them about educational concerns and anything that involved nursing," Canubida added. "But I trusted them enough to discuss life problems in general. They were always welcoming and warm."
Before COVID-19, Sexson periodically hosted lunch with students, while FNP faculty held regular office hours. Both take place virtually during the pandemic. Faculty identify a student who is struggling, they assemble a learner performance team to determine if it's a resource issue or, perhaps, the learning environment that pose the challenges.
"I've tried to put my finger on what's different about us, because we are different," Sexson said. "Part of it is our faculty development, the opportunity that faculty have here for honing their own craft of teaching. But then there's our collaboration. It speaks to our value of interprofessionalism and our commitment to helping students realize their dream."
For students like Canubida, that faculty involvement made all the difference.
"It's great to have family and friends…especially because program is so rigorous," he said. "But one piece of advice or one sentence can have a huge impact on someone at that time in their life."