Education Building Facilities
The UC Davis Health Education Building and F. William Blaisdell, M.D., Medical Library provide a collaborative and dynamic educational environment that fosters efficiency, active and continuous learning and incorporates cutting-edge technologies that are essential in preparing medical students for the health-care challenges of the future. These resources serve medical students, interns, residents, and nurses who are part of UC Davis Health and represent a hub of educational expertise for practicing healthcare professionals throughout Northern and Central California and beyond.
The $46.2 million, 122,700-square-foot Education Building and library were completed in December 2006 and serve as a distinct gateway to the 140-acre Sacramento campus. California Construction Magazine selected UC Davis' new building as one of its 2006 Best of California award winners out of a field of more than 100 entries.
The Education Building complex includes:
An up-to-date, ultramodern library
Two 150-seat auditoriums
A 60-seat case method room
Multi-purpose classrooms for small group learning
A Clinical Skills Center
A state-of-the-art gross anatomy lab
Two student commons
A suite of faculty offices for master teachers
A student computer lab and advanced communications technologies
Administrative support areas
A café
The building is equipped with advanced audiovisual and computer technology to support a variety of learning modalities, both on-site and at a distance.

Auditoria: The Education Building includes two 150-seat lectures halls, with complete audiovisual and teleconferencing capability.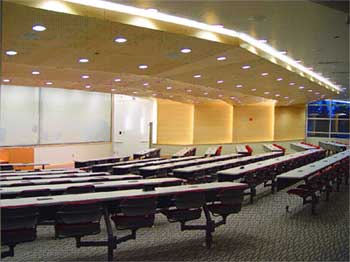 Multipurpose Teaching Rooms: Small-group teaching can be conducted in any of 17 smaller classrooms. When not in use for classes, these smaller rooms also can be used for group study. These rooms, which average about 460 square feet, accommodate 12 to 16 people each.
Communication Technologies and Computer Lab: The building is equipped with the latest educational and communications technologies, from wireless connectivity to high-quality projection and video streaming, allowing students to monitor and learn from live surgeries, telemedicine consultations and other doctor-patient interactions, as well as to assess and receive critiques on recorded mock patient encounters. A computer lab area that is used for formal computer training affords students another venue to access computers. This area includes facilities for computer support services, and a small classroom of approximately 630 square feet.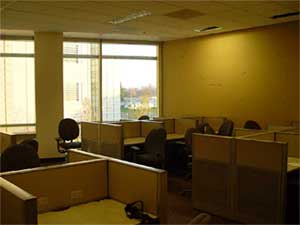 Clinical Skills Center: The Education Building also contains a state-of-the-art Clinical Skills Center. The facility includes two waiting areas, eight fully equipped examination rooms with pan and zoom cameras, eight inter-station computers, eight examination room computers, and a central monitoring room. The center's web-based software program controls audiovisual equipment, digitally records and archives student interactions, and compiles and reports exam results.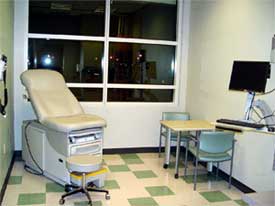 Gross Anatomy Teaching Laboratory: The Gross Anatomy Teaching Laboratory is located approximately 500 feet from the Education Building in the Facilities and Support Services Building. It contains 24 cadaver tables, as well as offices, storage space and computers for faculty. Adjacent to this teaching lab is a 1,025 square foot break-room, male and female locker rooms and other support space.