Student-run health clinics seek donations to provide free care to underserved communities
Organizers of annual Silent Auction and Wine Tasting Benefit encourage online giving
(SACRAMENTO)
The annual Silent Auction and Wine Tasting Benefit for the UC Davis student-run clinics is canceled again this year due to the pandemic, but donations are still needed. Students are running an online giving campaign to support the free medical care they provide to community members.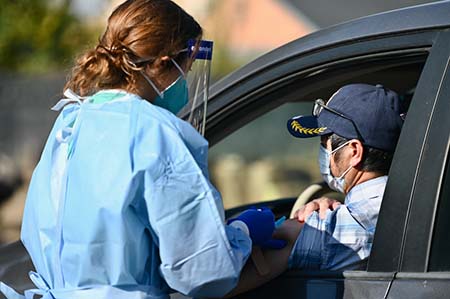 Proceeds from the fundraiser benefit the 13 UC Davis School of Medicine-affiliated student-run clinics. This year, organizers hope to raise $50,000. The crucial funding would go toward maintaining services and purchasing supplies and equipment to provide quality care to vulnerable local patient populations.
"Our student-run clinics provide care to underserved communities that would not have access to care otherwise," said Arina Nisanova, a first-year medical student and co-officer of the event's public relations team. "All of our clinics are non-profits and rely on donations and grants to stay open. For some of them, this event is one of the primary sources of funding."
For more than 40 years, student-run clinics affiliated with UC Davis have been operating in Sacramento's neighborhoods, providing free health care to uninsured, low-income and underserved populations. Operating on weekends, these clinics serve several distinct groups of patients, providing them culturally sensitive health care in a respectful and comfortable environment.
The clinics are staffed by health professions student volunteers who gain valuable experience. They include undergraduates from UC Davis, medical students from the School of Medicine and students from the Betty Irene Moore School of Nursing. They are monitored by volunteer physicians in the role of preceptors, or instructors.
"Our clinics are a place where both students can learn and patients can benefit," explained Tess Margaret Perez, a second-year medical student and co-officer of the event's public relations team. "I have received more education from working in the clinics than many weeks in classes because it offers such hands-on vital experience."
During the COVID-19 pandemic, the clinics have transitioned to a telehealth model of care. To bridge the gap in care while limiting potential exposure, many clinics have added additional services, such as care packages, home delivery of medication and medical devices and vouchers for patients to use on Uber and Lyft to get necessary blood draws and flu shots.
The clinics have also hosted COVID-19 vaccine clinics, vaccinating thousands of Sacramento community members.
"The work of our clinics has positively affected the health outcomes of our entire community," said Perez. "Without this funding, this incredibly impactful work would not be able to continue."
To donate online before the March 31 deadline, or to learn more about the fundraiser and student-run clinics, visit www.ucdwineauction.com. All donations are 501c3 tax deductible and 100% of the donation goes directly to the clinics.
In addition, checks may be made payable to "Silent Auction & Wine Tasting Benefit" and sent to: Darolyn Striley, 4610 X Street, Education Bldg., Suite 2101E, Sacramento, CA 95817.