High school students shadow medical center physicians
UC Davis Health and Sierra Sacramento Valley Medical Society aim to diversity future workforce
(SACRAMENTO)
At first glance, Nishka Surve looks like other trainees around UC Davis Medical Center: She wears green scrubs, spends hours seeing patients in clinic and receives guidance from an experienced faculty physician.
Take a closer look and you realize there's something different about her: She is only 16 years old.
Nishka is among 11 Sacramento-area high school students spending spring break learning about health careers by shadowing doctors at various UC Davis Health locations. The program, White Coat Week, was started by the Sierra Sacramento Valley Medical Society in an effort to diversify the health care workforce, especially with future doctors from backgrounds under-represented in medicine.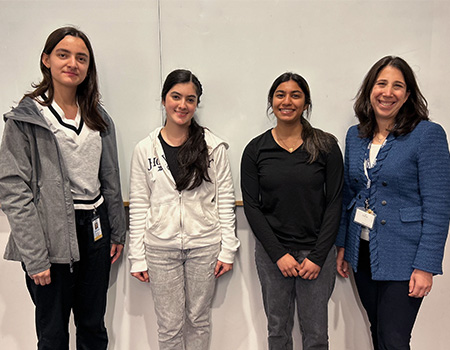 "I'm very excited and very grateful that this opportunity is available for high school students – I think it's really amazing for teenagers who want to gain this exposure," Nishka said. "Not everybody gets a chance to shadow a doctor at UC Davis, and I'm so grateful I was selected."
Nishka is a junior at Vista del Lago High School in Folsom who signed up for White Coat Week to get a closer look at how doctors treat patients with challenging diseases, and how they communicate their diagnoses to them.
She experienced all that, and more, during her first few hours this past Monday following Doron Sagiv, an otolaryngologist in the Glassrock Building, into and out of exam rooms. Sagiv talked to Nishka about his cases before and after each patient – often by pointing to an Ear, Nose and Throat poster to explain their ailments and what he's doing to treat them.
"It's very interesting to see how the doctor interacts with the patient because I know that patient care is like a huge part of medicine and how they interact with the patient and make them feel comfortable – especially when they're going through pain with their procedures," Nishka said. "So it's nice to observe that part of medicine."
UC Davis Health joined White Coat Week this year. In March, seven students shadowed 18 physicians. This week, four students are learning from eight doctors in Family and Community Medicine, Otolaryngology, Internal Medicine, Neurological Surgery and Anesthesiology.
"UC Davis Health is committed to equitable health care outcomes, and we believe that programs like White Coat Week, with a focus of exposing students from underserved communities to the field of medicine, is foundational to achieving this goal," said Debbie A. Aizenberg, interim executive director of UC Davis Medical Group, which coordinates the program with the medical society.
If we can get these students interested in health care careers, this will help strengthen and diversify the workforce with the aim that these students will eventually consider returning to practice medicine in underserved communities and can help reduce the disparities."
"If we can get these students interested in health care careers," added Aizenberg, "this will help strengthen and diversify the workforce with the aim that these students will eventually consider returning to practice medicine in underserved communities and can help reduce the disparities."
Aizenberg, a professor of head and neck surgery, shadowed doctors in high school more than 25 years ago in Montreal, Canada, which made a lasting impact. "It was one of those 'aha' moments filled with complete excitement and inspiration."
It appears Bahar Zahir of Sheldon High School could be headed for the same fate.
Bahar said her week interacting with doctors, residents and nurses in sports medicine and other specialties in March was "eye-opening and exciting." She was impressed by the work of Toby Steele – a specialist in rhinology, sinus and skull base surgery – and his residents.
"My most memorable experience was when I got to observe an endoscopic sinus surgery," Bahar said. "This was an unforgettable experience because I got to feel queasy with a medical procedure for the first time!"
Bahar, who likes to watch YouTube videos of skull surgeries on her free time, is part of her campus' Biotech Academy, a program that helps students explore careers in biological sciences.
She said she's grateful to UC Davis Health and the medical society for providing such an up-close learning experience. "You truly understand the value of having previous exposure and real-life encounters before making a decision as significant as choosing a career," she said.
Students selected for White Coat Week first submit an application, including a personal statement and transcript, to the medical society, which decides which participants to place in local hospitals.
Any high school junior or senior in the Sacramento region is welcome to apply. Some school districts offer high school credits for completing the program.
The medical society reserves 50% of total enrollment for students attending Title I schools, which receive federal money due to a high percentage of students from disadvantaged families, said Aileen E. Wetzel, the medical society's chief executive officer.
"Building and diversifying the health care workforce in the Sacramento region is a top priority for the Sierra Sacramento Valley Medical Society," she said, adding that many students come from immigrant families. "We are thrilled to have so many bright minds considering a career in medicine."
In addition to White Coat Week each spring, the medical society's Future of Medicine program and UC Davis Health collaborate on a summer mentoring effort that lasts two weeks.
While the application period for this summer's program has closed, students interested in applying for next year's spring break and summer programs are encouraged to contact the medical society's Program Manager Sam Mello at SMello@ssvms.org.