California surgeon general urges future doctors to screen patients for childhood trauma
Diana Ramos educates students about adverse childhood experiences, mental health and reproductive care
(SACRAMENTO)
California Surgeon General Diana Ramos on Tuesday encouraged UC Davis medical students to advance health equity in their future careers by helping to screen young patients for stressful and traumatic experiences.
By detecting and treating Adverse Childhood Experiences, or ACEs, early on, Ramos said, physicians can help improve health disparities that disproportionately affect certain demographic groups throughout their lifespan.
"You are all future doctors," she told about 40 students in a School of Medicine lecture hall and others watching online, "but the most critically important thing that we always talk about is, how do we treat disease, right? What we can we do to help our patients? Well, wouldn't it be wonderful if we can even prevent the disease form happening?"
She added: "This is exactly what treating ACEs does."
Ramos was invited to speak at the UC Davis School of Medicine by the local leadership team of Latino Medical Student Association, which is part of a national organization.
Ramos is an obstetrician-gynecologist who was installed in her position by Gov. Gavin Newsom on Sept. 1, 2022. She is a key spokesperson on the state's most significant public health issues and advisor to the governor on efforts to address health disparities.
Her remarks reflected her passion for educating the public about ACEs, mental health and reproductive health.
ACEs have received a growing amount of attention in recent years, due to studies that show how untreated childhood trauma is linked to physical and mental wellbeing in adulthood.
The most common ACEs occur in homes where family members deal with substance abuse, physical abuse, parental separation, sexual abuse and mental illness. An estimated 63% of Americans have had at least one ACE, according to the Centers for Disease Control and Prevention. The higher the number of ACEs, the worse the person's health outcome, according to research.
Addressing ACEs in childhood, Ramos said, will significantly decrease diseases, risky behaviors and socioeconomic challenges such as unemployment.
"You can decrease depressive disorders by 44% just by addressing ACEs," she said.
Ramos, who is Mexican American, said speaking to LMSA "is like coming home" because she was actively involved in the organization while attending medical school at the University of Southern California.
She implored students to improve the health of the underserved and to keep in touch with each other throughout their careers, the way she keeps in touch with a small group of Latinos from medical school.
"All of you are your own network," she said. "Make sure that you keep that passion, that friendship that you all have here, because when it comes time for the future, the ones you are going to lean on are the ones that are around you."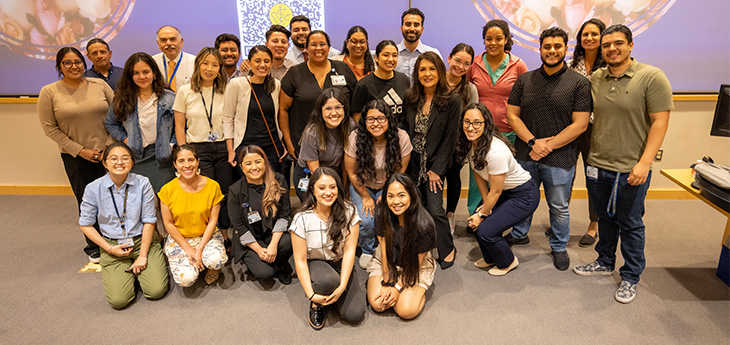 Ramos is the second person to hold the position of surgeon general, which was created by Gov. Newsom.
The first California surgeon general, Nadine Burke Harris, graduated from the UC Davis School of Medicine in 2001.
Ramos, during several parts of her presentation, urged students to take leadership roles and imagine themselves accomplishing big things, no matter their circumstances.
"I would have never imagined that, having been raised by a single mom who was always working up to three jobs, I would be able to one day be the surgeon general."