UC Davis nursing school expands fellowship for nurse leaders
$7.4 million grant from Gordon and Betty Moore Foundation builds on momentum of national program
(SACRAMENTO)
The Betty Irene Moore School of Nursing at UC Davis today announced a $7.4 million grant from the Gordon and Betty Moore Foundation to expand the Betty Irene Moore Fellowship for Nurse Leaders and Innovators.
Since 2020, the program has developed the next generation of nurse leaders and innovators dedicated to improving health care delivery and advancing health. This new grant increases the number of future fellows and builds upon the momentum of the first three cohorts who have had significant national impact. It's all in keeping with the school's mission of health equity for all.
"The foundation recognizes the high caliber of people we have attracted with this unique fellowship program," said Heather M. Young, national program director for the fellowship and School of Nursing dean emerita. "Given the nursing faculty shortage and need to innovate in health care solutions and health equity, this program enables faculty who are in a pivotal period in their careers to embark upon a trajectory for future funding and leadership."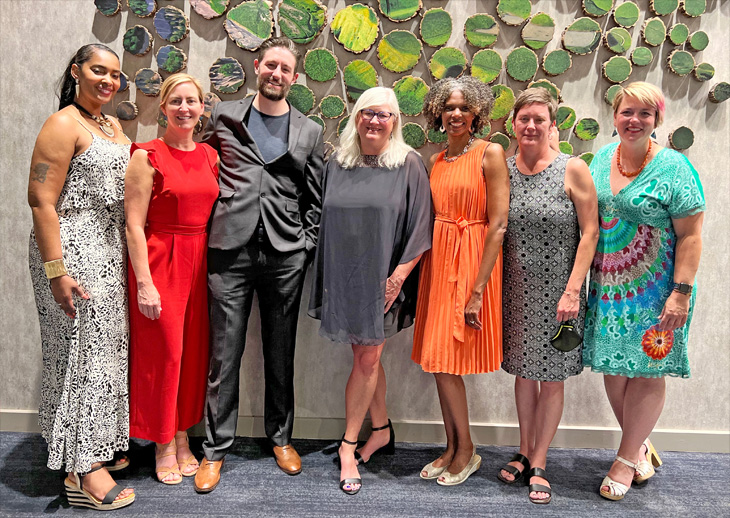 Young says that today's challenges in health care and population health require solutions that are new and innovative. The fellowship itself is innovative in that it supports early-to-mid-career nurse scientists from universities and health systems who bring diversity of perspectives and thought. The fellowship funds their prototype development and exploratory work not typically funded by the National Institutes of Health. These includes projects such as mobile applications for health intervention, artificial intelligence to identify patients at risk of certain conditions and new tools to help prevent hospital readmissions.
In the past three years of the program, 32 early-career nursing scholars have developed their potential to accelerate leadership in nursing-science research, practice, education, policy and entrepreneurship. They all benefit from a curriculum that includes leadership and entrepreneurship developed by the nationally ranked UC Davis Graduate School of Management. Additional faculty address communication strategies and anti-racist leadership. They also experience mentorship provided by members of the Fellowship National Advisory Council and health care leaders nationwide.
"We have created a fantastic network of national leaders and mentors, people who were not connected with the School of Nursing or UC Davis before," Young added. "I'm so struck by the community our fellows have formed with each other as they move forward with courage."
Members of the inaugural cohort, who complete the three-year program in July, have taken coursework to scale their projects in hopes of achieving optimal health outcomes for their target populations. They learn about human-centered design, developing networks and negotiation skills.
This program enables faculty who are in a pivotal period in their careers to embark upon a trajectory for future funding and leadership.
Fellows' accomplishments in the first two years of the program include:
Receiving more than 37 leadership roles and promotions
Winning roughly two dozen research awards
Being awarded more than $25 million in new funding and grants
Presenting at

nearly 200 national conferences and lectures
Disseminating more than 230 research publications
Developing a

program to mentor future nurse scientists

at historically Black universities and colleges
Premiering a film

highlighting health access in the Deaf community at the Sundance Film Festival
"These fellows embody the vision of Betty Irene Moore. We are grateful to the Moore Foundation and Dr. Young for imagining and supporting a program with such impact," added Dean Stephen Cavanagh. "Just as our graduates, faculty and research make significant contributions to the lives of individuals, families and communities, fellowship alumni will transform the future of health care."
UC Davis and the foundation have partnered in a shared vision to transform health care since the School of Nursing was founded in 2009 by the foundation's commitment of $100 million. The foundation has given an additional $60 million in the past decade to the top 25 nursing school.
The fourth cohort of fellows begins the program in June. Applications for the 2024 cohort open on Sept. 22.