Mentoring the future of nursing science
Four fellows who are alumni of historically black colleges and universities receive grant funds that aim to mentor future Black nurse scientists
(SACRAMENTO)
Nursing is a field of more than four million professionals. Less than 10% are Black. In higher education, less than 1% of nurse scientists are Black.
Schenita Randolph knows she is part of an incredibly small minority. As an undergraduate at North Carolina A&T State University, she did not envision herself as a nurse scientist.
"During my undergraduate program I did not engage in research outside of our research course my senior year," she recalled. "It was after I received my master's degree that I wanted to learn more about a research role and find innovative solutions and strategies to address some of the sexual health outcomes I was witnessing among adolescents in the clinical setting," Randolph said.
Common experience sparks common goal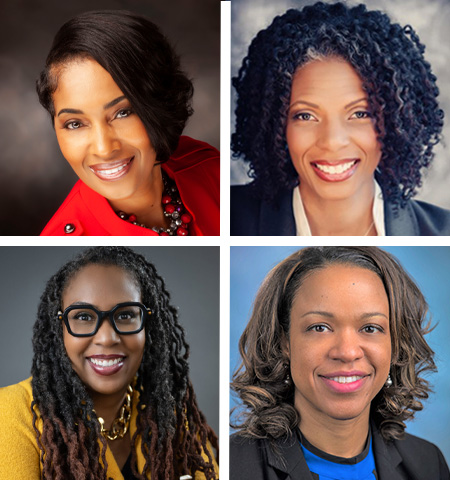 In 2020, Randolph met Dawn Aycock, Fawn Cothran and Kamila Alexander, three nurse leaders with whom she has much in common. All four were nurse scientists and faculty at universities across the country. All are members of the inaugural class of the Betty Irene Moore Fellowship for Nurse Leaders and Innovators. And all graduated from historically Black colleges and universities (HBCUs), which, they say, have an undeniable role in creating a more equitable future.
"It wasn't until my undergraduate nursing research course at Prairie View A&M University that I learned that nurses could be scientists, and even then, I questioned whether I would ever have the experience or opportunity to be one," Aycock said.
"I was excited about the prospect of becoming a nurse and Howard University graduate," Cothran added. "I wish I had known that there are paths that naturally align with my talents and strengths. Being curious, thinking and following systematic processes are absolutely a part of the science of being a nurse, but they're also the hallmark of a scientist."
Mentoring future nurse scientists
Driven by the urgent need to develop culturally tailored pathways to increase the number of Black nurse scientists, they are working to change that. A new $100,000 grant from the Gordon and Betty Moore Foundation is helping to make it happen. The long-term goal of the Black Nurse Scientists Mentoring Program is to mentor Black nurses wishing to obtain a PhD, preparing them for successful admissions to Ph.D. programs and productive career trajectories as a nurse scientist.
The one- year funded grant will be used to lay the groundwork for developing the program. The program founders will gather data using focus groups and individual interviews with Black Ph-D prepared nurses, HBCU schools of nursing administrators, and Black nurses contemplating nurse scientist careers.
"It is my hope that this mentoring program will provide future participants the resources, tools, language, networks and confidence needed to be successful in their roles as scientists," Randolph said.
"Science is built on past discovery. If those discoveries come from a narrow viewpoint, it becomes harder to prove that there are other culturally specific ways of approaching and developing scientific questions," explained Alexander, a Howard University graduate.
I am still learning and growing in my role and often thought to myself, maybe I should do something like this later in my career. But our communities cannot afford a later — they need us now.
Path to advance equity
Alexander says investing in the development of more nurse scientists from Black perspectives expands our foundation of knowledge. Cothran hopes this grant helps to identify how and when to strategically support future Black nurse scientists so they can give back to their communities and influence sustainable change.
"Health inequities cannot be addressed without adequate representation of Black nurse leaders in research," said Heather M. Young, fellowship national director. "Such role models allow Black students to see possibilities and opportunities for themselves as future scientists and academics and foster inclusive learning environments, ultimately contributing to more equitable research to address unacceptable health disparities."
These researchers wish they had known more about the possibilities of nursing science when they were in college.
"There are many ways of getting to success, but they are not always clear-cut or transparent. We hope to be in the position to pass along that information through our experiences as nurse scientists, making it a bit easier for those who follow," Alexander said.
"I continue to learn and grow in my role. I have often thought to myself, maybe I should do something like this later in my career. But our communities cannot afford a later — they need us now. I am confident that this program will have a sustainable impact. I am excited about the future and the possibilities." Randolph added.