UC Davis School of Medicine breaks new record for NIH research funding
(SACRAMENTO)
In 2021, the UC Davis School of Medicine achieved a new record of National Institutes of Health (NIH) research funding with more than $194 million in grants. This is an increase of about $13 million over the previous year.
The latest Blue Ridge Institute for Medical Research ranking placed UC Davis among the nation's leading medical schools for NIH funding. It ranked the school 33rd nationally - three spots above its 2020 ranking.
"We are proud of our researchers across all disciplines who, amidst the pandemic, remained at the forefront of finding answers to medicine's toughest questions," said Susan Murin, interim dean of the UC Davis School of Medicine. "The NIH funds some of our most exciting basic and translational research. It also provides significant support to our world-class centers such as the UC Davis Clinical and Translational Science Center, the Comprehensive Cancer Center, and the MIND Institute."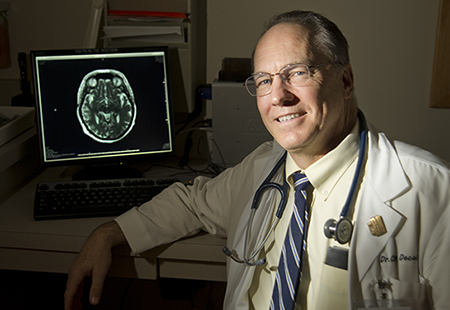 Eight departments ranked in the top 20 nationally in their respective fields:
Among those departments, five ranked significantly higher this year than the year before: Cell Biology and Human Anatomy, Neurology, Orthopaedic Surgery, Urologic Surgery and Medical Microbiology and Immunology.
Also, the UC Davis Departments of Cell Biology and Human Anatomy, Medical Microbiology and Immunology, and Emergency Medicine scored the highest funding in their respective fields among all University of California medical centers.
"It's exciting to see another record-breaking year for NIH funding to UC Davis School of Medicine and an increase in our national ranking," said Kim E. Barrett, vice dean for research and distinguished professor of physiology and membrane biology. "The results stem from the tireless efforts of our talented faculty that fuel innovation to improve health for all."