Violence prevention expert Buggs attends White House ceremony tackling 'ghost guns'
The untraceable 'DIY' guns are fueling an epidemic of violence
(SACRAMENTO)
Shani Buggs, an assistant professor with the Violence Prevention Research Program (VPRP), was in attendance for a historic White House event in the Rose Garden on April 11. She was there as President Joe Biden announced new rules to crack down on "ghost guns" and a ban on the manufacturing of untraceable firearms.
Ghost guns are privately assembled firearms built from parts that can be easily ordered or purchased without a background check. These "DIY" firearms are produced without serial numbers and are untraceable if used in a crime. They are considered one of the fastest-growing firearm safety concerns facing the country and are fueling an epidemic of violence.
"Weapons that are unserialized, untraceable and easy to manufacture from parts sold freely on the internet should be of grave concern to everyone," said Buggs. "These new rules can help prevent the possession and use of dangerous weapons by individuals who intend to do harm with them."
Buggs' expertise is community-level gun violence prevention policy and programs. Her work focuses on comprehensive approaches to reducing violence.
She attended the White House event as a representative of the Fund Peace coalition, made up of violence prevention experts, program leaders, advocates and gun violence survivors.
The group has provided ongoing consultation to the White House Domestic Policy Council, the White House Office of Public Engagement, and the United States House of Representatives Gun Violence Prevention Task Force, about the dire need for the Biden administration to invest in community violence prevention efforts.
Weapons that are unserialized, untraceable and easy to manufacture from parts sold freely on the internet should be of grave concern to everyone.
Last year, their efforts paid off when President Biden increased his commitment to community violence intervention (CVI) investment from $900 million to $5 billion in the American Jobs Plan and the Build Back Better Act.
Now, the Biden administration has turned its attention to "ghost guns." In major cities in California, law enforcement agencies are reporting a significant percentage of the guns they recover following a crime are ghost guns.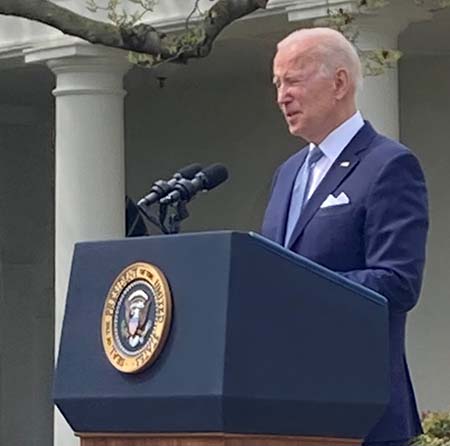 Among other requirements, the new rule bans manufacturing the most accessible ghost guns, like unserialized "buy build shoot" kits. Individuals can buy these online or at a store without a background check and can readily assemble into a working firearm in as little as 30 minutes. The rule also requires federally licensed dealers and gunsmiths taking any unserialized firearms into their inventory to serialize the weapons.
Research on ghost guns by Garen Wintemute, director of VPRP and a physician in the Emergency Department, was used by the administration to help outline these new rules curbing their sale and use.
"Our group is working with law enforcement agencies around California to develop and share a 'statistical picture' of ghost guns and their uses in crime. That information will be available soon," Wintemute said.
Related research