PC-CARE added to California Evidence-Based Clearinghouse for Child Welfare
(SACRAMENTO)
PC-CARE, a treatment program to improve caregiver-child relationships, has been added to the California Evidence-Based Clearinghouse for Child Welfare (CBEC). The clearinghouse is an online tool that identifies and disseminates evidence-based child welfare practices. CBEC seeks to improve child safety, increase permanence and family and community stability, and promote child and family well-being.
Developed at the UC Davis CAARE Center, PC-CARE serves families with children ages 1 to 10 years old, including Sacramento County foster children and their caregivers.
Each week the caregiver and child attend a 1-hour session for a total of seven weeks. This includes one pre-treatment assessment and behavior observation and six weeks of coaching sessions with the caregiver and child. During each session, the provider:
checks in with the family,
uses a brief child behavior screener to address behaviors in the past week,
teaches a 10-minute lesson of new skills, and
coaches the caregiver for 20 minutes to use the new skills during play with the child.
assigns "Daily CARE" to the caregiver to use the skills during play with the child for five minutes every day.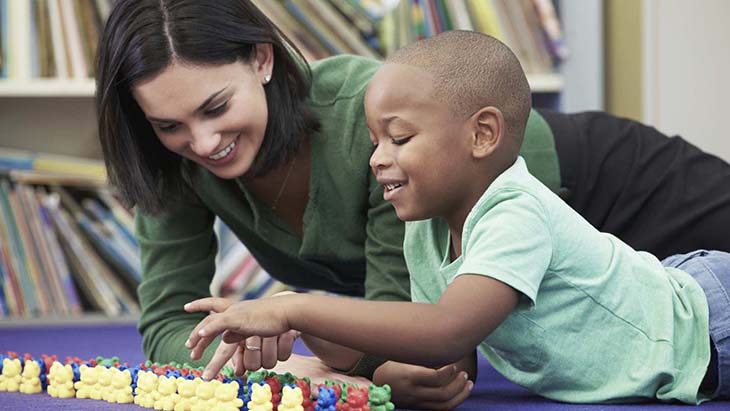 "Being recognized as an Evidence-Based Treatment (EBT) by the CEBC means that mental health providers will be able to bill for PC-CARE when insurance companies require EBTs for reimbursement," said Brandi Hawk, a co-developer and supervisor of the PC-CARE program. "It also means greater visibility for PC-CARE when agencies or providers look to the CEBC to decide which treatments to use or trainings to pursue. There is a push for mental health providers to offer EBTs to ensure clients receive appropriate care. Now, PC-CARE is included in that group of treatments that work."
Hawk said that the program is designed not only to improve the child's behavior, but also to shift the parent's thinking and responses to be more positive.
The CEBC is funded by the California Department of Social Services' Office of Child Abuse Prevention and is one of its targeted efforts to improve the lives of children and families served within the child welfare system.
Related links
A thoughtful shift: Leading families to life-changing results
Fewer behavior problems in young foster care kids after PC-CARE program
Parenting intervention program receives $5 million in federal grants