School of Nursing co-founder Gordon Moore dies at age 94
(SACRAMENTO)
Gordon Moore, the co- founder of the Betty Irene Moore School of Nursing at UC Davis and Intel Corporation, died Friday at the age of 94. He is remembered as a brilliant scientist, business leader and philanthropist.
Moore defined the semiconductor industry. He became famous for his 1965 prediction that the number of transistors on an integrated circuit would double every year, which came to be known as Moore's Law. After his success at Intel made him a billionaire, Moore and his wife of 72 years, Betty, focused on philanthropy. They created the Gordon and Betty Moore Foundation "to create positive outcomes for future generations."
The foundation invests in areas of environmental conservation, science and patient care. UC Davis received a $100 million commitment in 2007 to launch an innovative nursing school. The foundation selected UC Davis among leading candidate universities because of its excellence in the sciences, its long-standing tradition of interdisciplinary, collaborative education and its entrepreneurial spirit. Bearing Mrs. Moore's name and dedicated to transforming health systems and education, the Betty Irene Moore School of Nursing opened its doors to the first students in 2010.
A commitment to nursing
"Gordon Moore was a brilliant innovator and an extraordinary human being. I am eternally grateful for his commitment to nursing and the opportunity he gave me and the school to rise to his challenge that we lead change and improve lives," said Heather M. Young, the school's founding dean. "His personal interest and support meant the world to me. Each of us touched by his vision and generosity can honor his memory through the work we do and take inspiration from his courage, creativity and kindness. We send our deepest condolences to Betty and his family."
In an Intel news release, Gordon and Betty Moore Foundation President Harvey Fineberg reflected on Moore's humility and generosity. "Though he never aspired to be a household name, Gordon's vision and his life's work enabled the phenomenal innovation and technological developments that shape our everyday lives," he said. "Yet those historic achievements are only part of his legacy. His and Betty's generosity as philanthropists will shape the world for generations to come."
After the initial commitment, the foundation continued investing in the School of Nursing. In 2017, a $5 million grant founded the Family Caregiving Institute, dedicated to supporting the more than 40 million caregivers in the U.S. In 2019, a $37.5 million investment (and recently $7.5 million more) launched the Betty Irene Moore Fellowship for Nurse Leaders and Innovators. This national program, led by Young, is developing the next generation of nurse leaders and innovators.
"As an electrical engineer in the integrated circuits field, Gordon Moore has long been a personal hero and iconic figure. While our School of Nursing proudly bears his name, he will forever be a part of the entire university," said UC Davis Chancellor Gary May. "Gordon's deep curiosity about and care for life will continue on at UC Davis in work funded by the Moore Foundation, which includes an astonishing breadth of disciplines — from the workings of our cells to the mysteries of the cosmos, from the health of our waters to the resilience of our lands."
A visit for Betty
Moore visited the Sacramento campus in 2015 for the groundbreaking of Betty Irene Moore Hall, home to the School of Nursing and interprofessional education at UC Davis Health. He joked that he attended as "Betty's representative" then commented on the young school's early success.
"This program is turning out to be very successful. It's having an impact in areas that are particularly important to my wife Betty," Moore told those gathered. "We think it will have an important impact not only here, but in places where it can be cloned."
In the past 13 years, the school has launched six graduate-degree programs, graduated more than 1,000 alumni, and is ranked among the top 25 nursing schools in the country according to U.S. News & World Report. Current school leadership says UC Davis owes a debt of gratitude to the Moore's vision.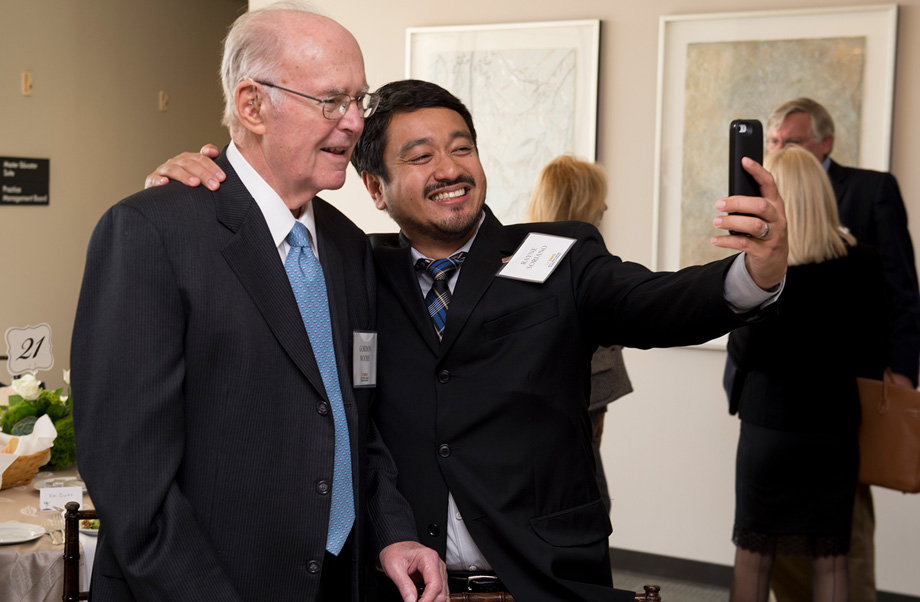 "Gordon and Betty established this School of Nursing to prepare nurses as collaborative leaders with the skills and confidence to inspire others, enact change and challenge the status quo," explained Stephen Cavanagh, School of Nursing dean since 2019. "That commitment to nursing and to health care leave an indelible impact on us and motivate us to continue our work that he believed could make a lasting difference."
In 2017, Gordon and Betty Moore were recognized as California's most generous philanthropists. To date, their foundation has donated more than $5.1 billion to charitable causes since its founding in 2000.
Moore is survived by his wife, along with their two sons Kenneth and Steven and four grandchildren.