Some 80% of patients hospitalized with COVID are unvaccinated
With holidays approaching, medical experts fear a surge in infections
(SACRAMENTO)
If anyone still wonders whether COVID-19 vaccines are effective at preventing serious illness, look no further than UC Davis Medical Center – and probably most hospitals in the country.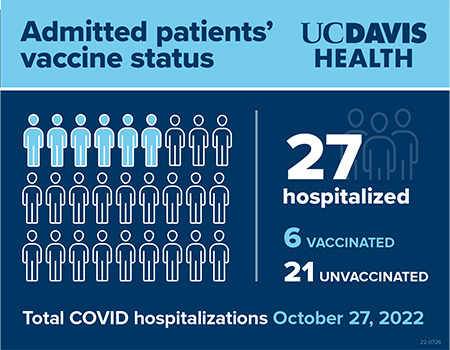 Nearly 80% of the COVID-positive patients sick enough to require hospitalization in recent days are unvaccinated.
The other roughly 20% of people admitted to the hospital with COVID have breakthrough infections.
And although unvaccinated patients have much greater chances of surviving than they did earlier in the pandemic, in part due to more treatment options, doctors still worry about the long-term effects of the virus on those who decide against immunization.
"If you are unvaccinated, especially this long into the game, you do have an increased risk of having long COVID," said Natascha Tuznik, a UC Davis Health specialist in infectious diseases.
Many of the persistent symptoms of long COVID that can show up months after the acute infection – including respiratory issues such as shortness of breath, gastrointestinal problems, joint pains and muscle aches – can be incredibly disruptive to quality of life. What's more, Tuznik said, long COVID can also overlap with other health issues and trigger major problems.
"This can limit your ability to move, exercise and work," Tuznik said.
80% of Americans have received at least one dose of COVID vaccine
COVID-19 vaccines first became available in December 2020.
Since then, more than 265 million Americans, or 80% of the population, has received at least one dose, according to the Centers for Disease Control and Prevention.
If you have an unvaccinated friend, family or coworker that you spend a significant time with, that person is 20 times more likely to give you COVID, even if you are vaccinated."
The latest booster, a COVID-19 bivalent vaccine, became available Sept. 2. The CDC recommends everyone over age 5 receive the booster, which protects against the original virus and the newer Omicron strain.
UC Davis Medical Center on Thursday had only 27 patients hospitalized with COVID-19, a dramatic decrease from the all-time high of 160 on Jan. 29, 2022.
Of the 27 patients still admitted, 21 (78%) were unvaccinated. The remaining six patients (22%) with breakthrough infections were at least partially vaccinated.
None of the unvaccinated patients were on a ventilator and five patients were being treated in the intensive care unit, each of whom was unvaccinated.
The looming "tridemic"
As the holiday season approaches, medical experts around the country are growing concerned about the continuing spread of COVID, influenza and respiratory syncytial virus (RSV) – what they're calling a tri-demic or tripledemic that may put lives at risk.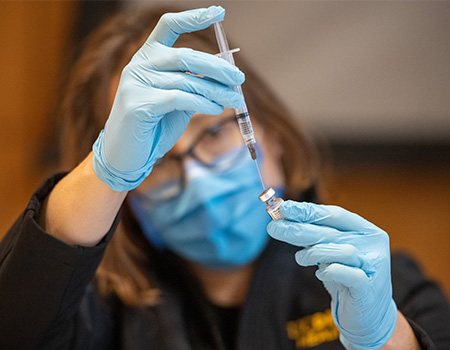 Flu season has arrived earlier than usual. RSV is putting a strain on children's hospitals in some states outside California. COVID is expected to surge due to family reunions where masking and social distancing won't be as prominent as in the past two years.
"If you have an unvaccinated friend, family or coworker that you spend a significant time with," Tuznik said, "that person is 20 times more likely to give you COVID, even if you are vaccinated."
While masking and distancing helped curb the number of COVID infections, such precautions also created an unintended consequence: "Our immune systems have waned on garden variety viruses, including the common cold," Tuznik said.
As a result, more people are susceptible to getting sick with viral ailments because their bodies aren't producing antibodies like they used to, she said.
All the more reason to get the COVID-19 shot and boosters, the flu vaccine, wear masks and wash hands thoroughly and frequently.
"COVID is never going to go away; we know that. It's just a matter of when it's going to be an endemic, not a pandemic," Tuznik said.
She added: "The best we can do is remind everyone that vaccines are safe, vaccines are effective, and vaccines can stop this."
To find a location administering COVID-19 vaccines and boosters, go to My Turn.