Teaching Scholar Certificate Series - Starting September 2022
For the 2022/2023 academic year we will offer a teaching and learning certificate series that will replace the Interprofessional Teaching Scholars Program.
Visit our Teaching Scholar Certificate Series page for more details.
Interprofessional Teaching Scholars Program
Interprofessional Teaching Scholars Program Classes
FEATURED SCHOLAR AND RESEARCH PROJECT
George Palo Veterinary Medicine and Nursing IPE Experience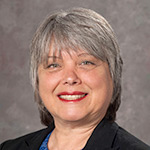 Susan L. Adams, Ph.D., R.N., N.P.
2016-2017 ITSP Scholar

Assistant Clinical Professor,
Betty Irene Moore School of Nursing
Project Description: Create a pilot interprofessional education (IPE) session for veterinary medicine students and master's level prelicensure nursing students.
Project Update / Results: Adams partnered with four professors from the University of California, Davis School of Veterinary Medicine and together they created and conducted an all-day case-based problem-learning seminar about an elderly man with mild dementia, George Palo (age 90) and his Golden Retriever, Max (age 13).

A Quick Glance at the Interprofessional Teaching Scholars Program
This unique two-year faculty development program focuses on enhancing the knowledge, skills and attitudes of faculty in health professions education and promotes the development of change agents and educational leaders who will affect the culture of education.
Our audience — All levels of faculty members in the medicine and nursing professions. The ITSP curriculum is largely geared to early- and mid-career faculty members but also provides suitable content for advanced-career faculty members desiring to refine and refresh their skills.
Mission — To foster the development of a collaborative and innovative interprofessional teaching and learning community.
Vision — From Teachers to Educators to Educational Scholars and Leaders
Learn more about our curriculum
What Our Program Participants Say…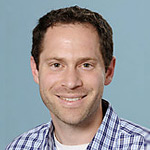 I wanted the tools and knowledge to be an excellent educator
I joined ITSP because I wanted the tools and knowledge to be an excellent educator. ITSP provided me a diverse set of educational methods and new ideas that I have already utilized in my courses.
— Michael Schick, D.O., M.A., 2016-2017 Teaching Scholar, Assistant Professor, Department of Emergency Medicine, Director of Technology-Enabled Active Learning