Erik Fernandez y Garcia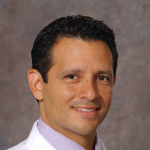 Medical School: UCLA/Drew
Masters Public Health - Health Services: UCLA
Residency Multicultural Health Fellowship: Children's Hospital Oakland
Role: Associate Professor of Clinical Pediatrics
Department: Pediatrics
Clinical Care Sites: UCDHS Newborn Nursery, UCDHS Pediatric Resident Continuity Clinics at UCDHS campus, Sacramento County Primary Care Clinic and Sacramento Native American Health Center

Personal and Professional Interests:
I was born and raised in South Sacramento. I enjoy raising my two children here and helping them see the beauty in the area. Professionally, I have an clinical interest in childhood asthma; and complex mental, physical; and social health problems. I have research interests in developing interventions to help primary care providers provide intergenerational mental healthcare and provide family-centered support for complex child health problems.