Emily Marquet, M.D.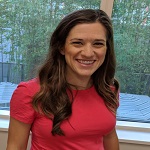 Medical School: Thomas Jefferson Medical School (now called Sidney Kimmel Medical School) in Philadelphia, PA
Residency: Thomas Jefferson Hospital Internal Medicine residency program, Philadelphia PA
Residency: Lankenau Medical Center Internal Medicine residency - Chief Resident, Philadelphia PA
Role: Hospitalist
Department: Internal Medicine
Personal and Professional Interests:
I highly value a well balanced life, both professionally and personally, including healthy nutrition, exercise, mental health, and social and community involvement. I try to bring this into my practice with my patients as well as with teaching students and residents. I value teaching and caring for patients with evidence based medicine and most importantly, with compassionate care.