Wellness and Mentorship
Wellness
We recognize the intellectual, physical, and emotional challenges during residency training. We take pride in our wellness program at UC Davis Neurology which highlights our responsibility and commitment to cultivating a supportive culture of inquiry and learning. We host wellness activities throughout the academic year integrated into the workday which respects and protects personal time. Prior events included: Puppy Play Date, Yoga Class, and Smoothie Bar. We also have quarterly resident retreats, activities of which have included: Welcome BBQ, Movie Night, and Escape room. We have an elected Wellness Ambassador (PGY3), who serves as the resident liaison working alongside our department educational team. Our department funds our Wellness Ambassador to participate in the Train New Trainers Clinician Health and Well-being Program Fellowship which is a 6-month program to gain in-depth training and advance a career in clinician health. Additionally, they serve on the GME wellness committee and our department wellness committee. Our Wellness Ambassador hosts our social hours that is joined by residents and faculty.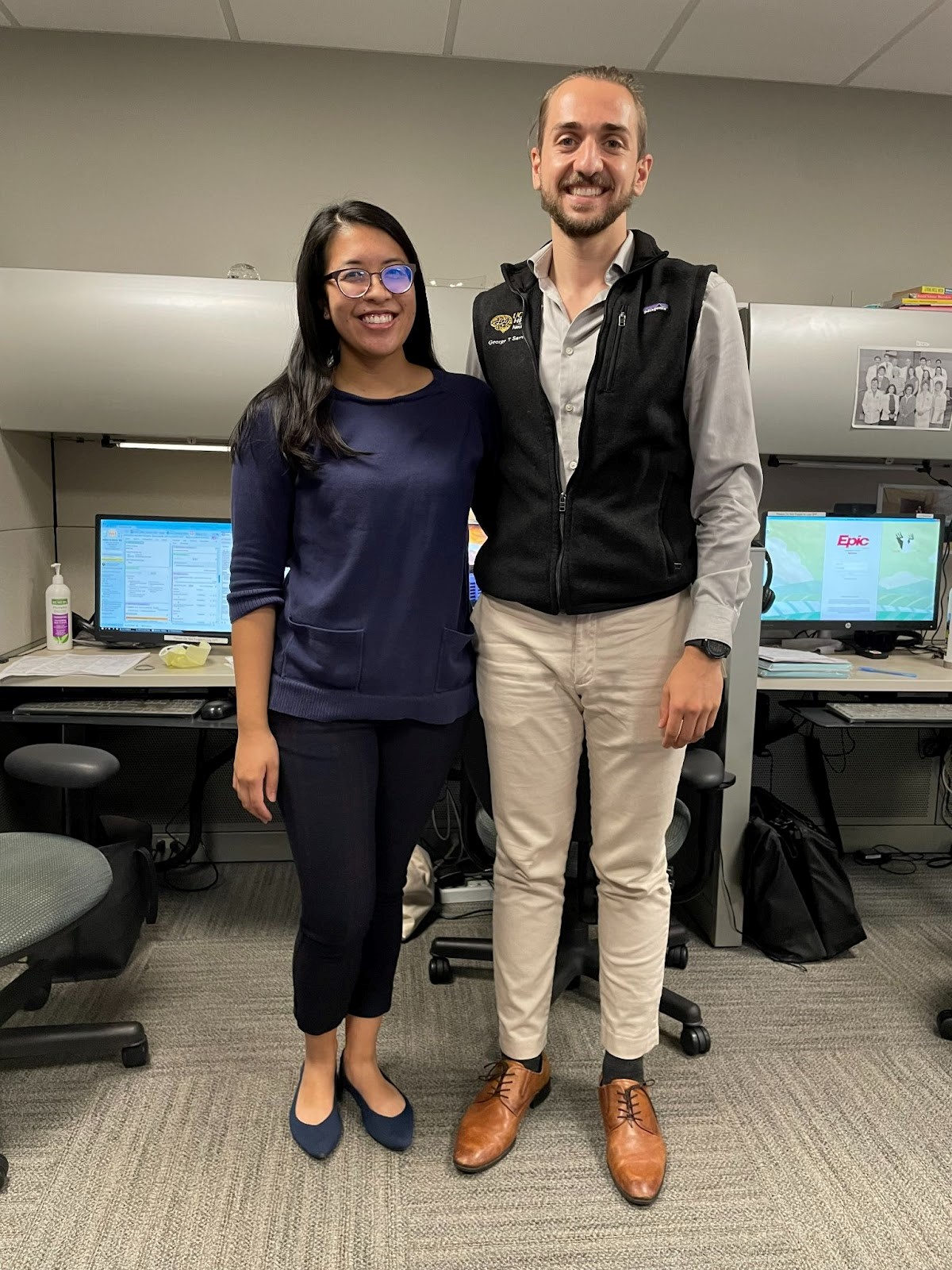 "Hi everyone! Our names are George and Maria, and we are the co-wellness chiefs for the UC Davis Neurology program. Both of us are invested in improving the wellness of residents whether it be through fun social events or creating a working environment centered around inclusion, respect, and teamwork. The Neurology residency program and department-wide wellness committee have been very supportive and flexible in carrying out our vision.
Check out some of our wellness events/initiatives below:
Twice yearly Resident Retreats
"Brains and Brews", our monthly resident get together at a local brewery
Monthly Wellness Lectures
Resident-to-resident mentoring partnerships
Impromptu snack support
Quarterly Department-wide potluck dinners
And of course, being direct advocates for making improvements in our residency
Our department also supports a Wellness Chief's participation in the Clinician Health and Well-being Program Fellowship, a 6-month program to gain in-depth training and advance a career in clinician health. Lastly, many liaisons within the department participate in a Support-U Peer Responder program, a campus-wide effort to provide counseling at various levels of training in response to all the challenges of working in a health care system."
George Savvides, M.D. and Maria Florendo, M.D.


PGY3 Neurology Residents


Co-Wellness Ambassadors 



Here are some pictures throughout the year!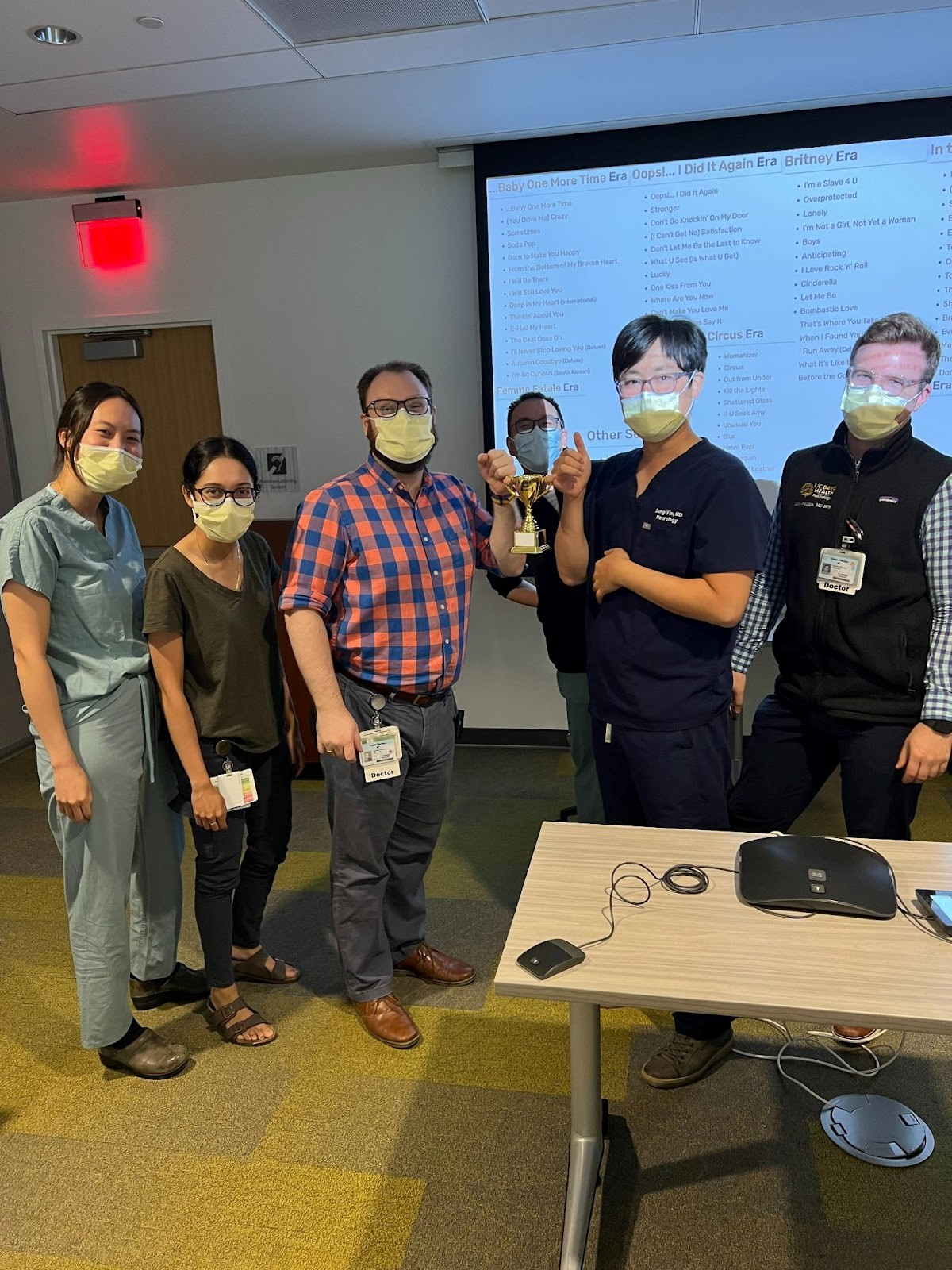 Winners of inaugural Wellness teambuilding activity Brains, Brawn and Brittney with Drs. Hu, Dutta, Chatlos, Cuyegkeng, Yim, and Phillips.
Impromptu snack support with Drs. Savvides, Hwang, and Katti.
July's Brains and Brews post-didactics get together with Drs. Hwang, Savvides, Tong, Branston, Amerkhanian.
Mentorship
Residents are paired with a faculty mentor at the start of residency. Resident-Mentorship selection is weighted on numerous factors and include (but not limited by) specialty interest, work-life balance, or career guidance. Mentorship starts PGY1 and continues throughout ones residency with quarterly check-ins, review of academic goals, scholarly activities and career planning such as fellowship.
In addition, we have a peer-to-peer mentorship program called the "Big Sibs Program," of which a PGY1 and senior PGY3 resident are paired at the beginning of the academic year to provide support and guidance at the start of internship into the transition of neurology training.