Medical students earn top honors at national conference
Winning poster highlights care for immigrants at Knights Landing student-run clinic
(SACRAMENTO)
An academic poster written by UC Davis medical students has been awarded first place at the Latino Medical Student Association (LMSA) 2023 National Conference.
The poster describes the creation of a free health program for immigrants developed by the future doctors who include Julio Siliezar, Yakelin Arroyo-Velazquez, Paola Rodriguez, Ariana Lopez Torres and Yuliana Diaz.
The students detailed in the poster the importance of their new program that provides physical exams for immigrants applying for green cards.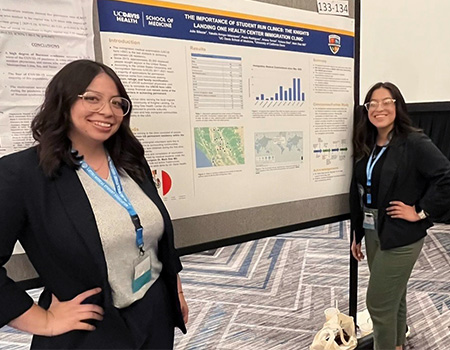 The group of students served as volunteers last year at the student-run clinic, Knights Landing One Health Center, when they learned about a need in the community: Immigrants who qualify for permanent residency must include a physical exam as part of their application. The students knew that many uninsured immigrants lack access to the private practice doctors who typically charge $600 to more than $1,000 for a physical, which often includes laboratory samples and immunizations. On top of that, the immigrants spend hard-earned money on the federal government's application fees, and on attorneys who handle their cases.
The students decided to ease the burden on their underserved patients.
Under the direction of a community physician volunteer mentor, Mark Diaz, they set up a program to offer the exam for free. The new service is called the Immigration Medical Exam specialty clinic, or IME.
Knights Landing undergraduate volunteers help schedule the patients for weekend appointments, while medical students assist Diaz in the physical exam, known as an I-693. Diaz is a designated civil surgeon authorized by the U.S. Citizenship & Immigration Services to perform the exams.
"We noticed this was something that was greatly needed in the Knights Landing community, so it really is amazing that we are able to provide these exams for free," said Arroyo-Velazquez, now a second-year medical student.
Patients are eligible for the free medical exams if they live in or near Knights Landing, in rural Yolo County. Students have assisted in dozens of physicals.
Students hope to inspire other schools to offer medical exam clinic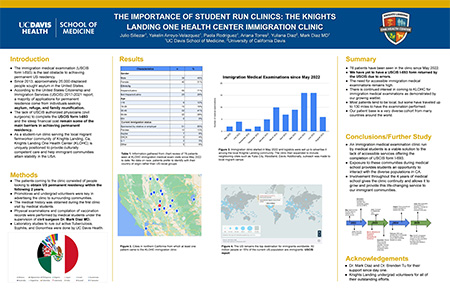 The students were so moved by their grateful patients that they created a poster about their involvement and presented it at the LMSA conference in Atlanta last month.
"Our goal was to inspire other medical schools and free clinics to start their own IME clinic," Arroyo-Velazquez said.
Hundreds of students from across the country attended the conference, including 16 from the UC Davis School of Medicine.
UC Davis is home to one of the more active LMSA chapters in the nation. UC Davis also has a higher share of Latino students than most medical schools. About a quarter — 24% — of the newest first-year class is Latino.
About 135 posters were displayed in the student category and the one presented by UC Davis won first place.
"We're delighted our students were selected for the winning poster," Diaz said. "The immigration clinic is basically powered by the students."
Diaz, who attended UC Davis as an undergrad, has a decades-long track record of supporting Latino causes, including overseeing students at Knights Landing for about the past five years. He is a volunteer clinical professor in the UC Davis Health Department of Family and Community Medicine.
In addition to the IME clinic, another group of UC Davis community-minded student and physician volunteers provides a similar service: Applicants who fled their country and are going through the U.S. asylum process in greater Sacramento receive free medical exams from the medical school's Human Rights Initiative student-run organization.