UC Davis nursing school receives national honor for diversity
Health Professions Higher Education Excellence in Diversity Award shows schoolwide commitment to diversity and inclusion
(SACRAMENTO)
The Betty Irene Moore School of Nursing at UC Davis has been honored with the 2023 Health Professions Higher Education Excellence in Diversity (HEED) Award from INSIGHT Into Diversity magazine. This is the school's second time in three years to receive the award.
The School of Nursing is among 64 health colleges and universities nationwide to win the award, given for its outstanding commitment to diversity and inclusion. These institutions, which include the UC Davis School of Medicine, are selected after a comprehensive and rigorous application progress.
That includes "assessing the recruitment and retention of students and faculty, pathway programs, community partnerships and leadership support for diversity and other aspects of campus diversity and inclusion," said Lenore Pearlstein, the magazine's publisher. "Our Health Professions HEED Award recipients demonstrate extraordinary resolve in working to build a more equitable, inclusive and diverse campus environment."
School of Nursing leaders view the award process as an opportunity to thoroughly assess the school's existing diversity, equity and inclusion processes and structures.
This provides an opportunity to celebrate areas where we have been successful, identify gaps in order to invest resources in areas of greatest need, and benchmark and learn best practices from other institutions
"It guides us to ask, 'Do we do this? How well do we do this? and 'Why aren't we doing this?,'" said Piri Ackerman-Barger, associate dean for health equity, diversity and inclusion. "This provides an opportunity to celebrate areas where we have been successful, identify gaps in order to invest resources in areas of greatest need, and benchmark and learn best practices from other institutions."
Diversity starts with admissions
In 2022, the School of Nursing's students were 28.3% Hispanic and 10.2% Black, more than a third greater than the percentage of Black residents in California. It was the most diverse class yet of physician assistant students. Among the clinical classes that entered this summer, 46% are the first in their family to attend college.
The School of Nursing's students exceed national diversity rates by nearly 50%. With excellent graduation rates among students as well, the school supplies a pipeline of nurses and physician assistants, many of whom stay in California to practice. Key to preparing successful graduates is recruiting diverse classes.
In support of the overall mission and vision of the school, the admissions committee seeks to attract and admit students from diverse backgrounds with the potential for clinical excellence, advanced leadership or transformative research. The school's holistic review of applicants considers life experiences, including exposure to rural versus urban environments, current or former military experience and other markers common for people from underserved backgrounds. A Graduate Record Examination (GRE) is not required and special emphasis is placed on socioeconomic disadvantage and the desire to serve as a health care provider in underserved communities.
"We are looking for diversity of thought to build and sustain an academic environment where every member appreciates inclusiveness, equity and cultural awareness," explained Dean Stephen Cavanagh. "Through our innovative approaches, we expand access to and the quality of health care services for all patients by educating and preparing a student body that can best serve our community."
Diversity requires support
In addition to the holistic admissions processes, the School of Nursing focuses its health equity, diversity and inclusion efforts on student success, curriculum reform and pathway programs.
Recognizing that students have many ways of learning, processing information and interacting with course material, School of Nursing faculty and programs collaborate with students to develop individualized learning plans. Alumni are also recruited to serve as study group leaders in an inclusive learning environment.
Faculty members and doctoral students developed an evidence-based tool to conduct an in-depth review of courses and curricula related to health equity, diversity, inclusion, representation and accessibility. That has resulted in core content that students need to develop the knowledge and skills to become equity minded.
"We have prioritized the recruitment, retention and graduation of diverse groups of students who have the skill, knowledge and desire to improve health disparities and promote health equity," added Ackerman-Barger.
Partnerships spark pathways
Another priority for the School of Nursing is to expose future students to health professions before they go to college. Since many minority nursing professional organizations emphasize their missions to develop a diverse nursing workforce, the School of Nursing partners with Sacramento-area groups founded by school alumni.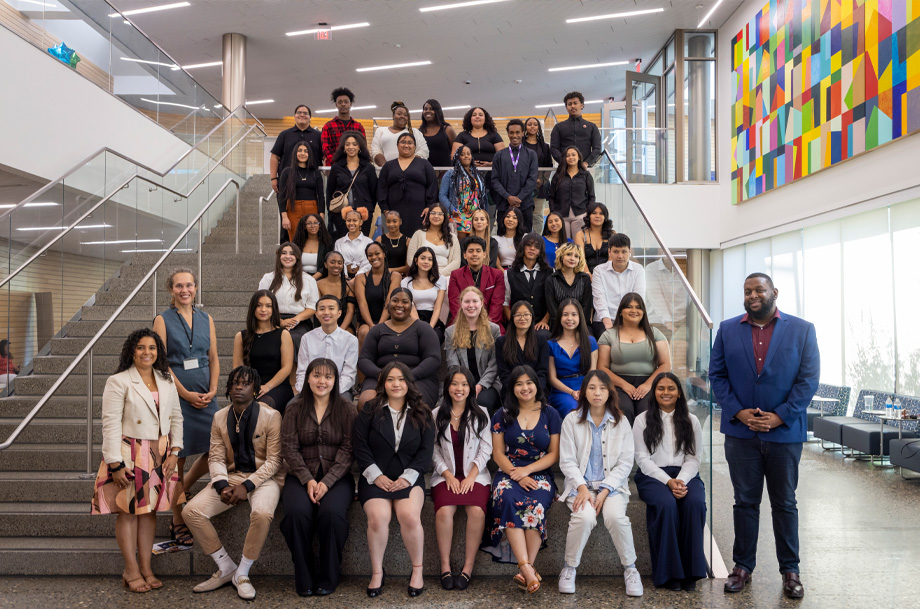 Those collaborations include the Summer Health Institute for Nursing Exploration and Success (SHINES) program. SHINES engages rising high school juniors, seniors and first-year college students in a two-week summer camp. Activities include simulations on high-tech manikins — life-size models of the human body — and classroom sessions focused on polishing up their resumes and interview skills.
Members of the Capitol City Black Nurses Association and the local National Association of Hispanic Nurses serve as volunteers and mentors to highlight the role Black and Latino nurses play in mediating the factors contributing to health disparities in communities of color.
As a recipient of the annual Health Professions HEED Award, the School of Nursing will be featured, along with 63 other recipients, in the December 2023 issue of the magazine. Faculty and leaders hope the national spotlight will further enhance recruitment for students of color, increasing the diversity of California's health care workforce.